Sea Shepherd intercepts 'shark boats' in East Timor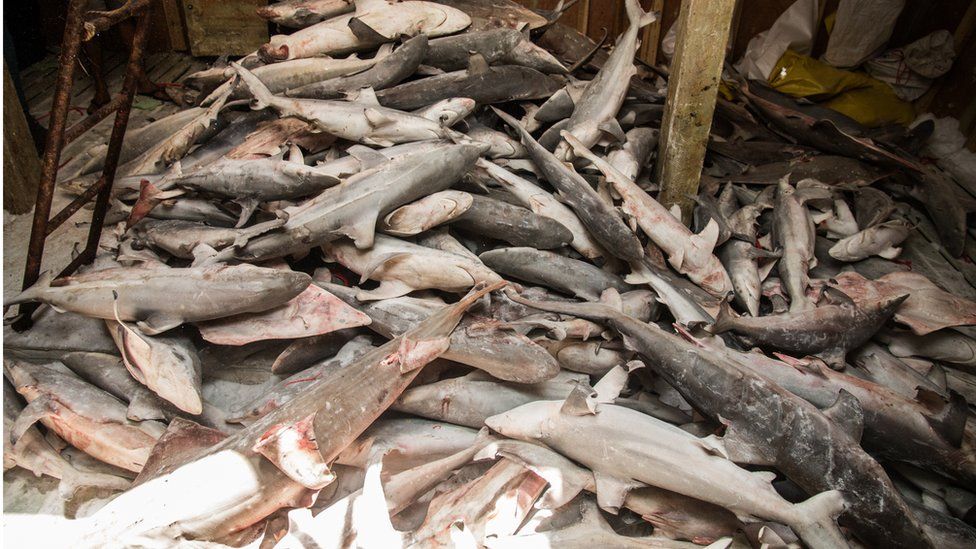 Activist group Sea Shepherd says it has helped East Timor police intercept 10 Chinese fishing vessels after they allegedly targeted sharks.
Thousands of sharks were found on the boats during the dawn raid on 9 September, the group said.
Sea Shepherd said it ferried police to the vessels in East Timor's waters.
East Timor authorities have not commented on the matter. The fishing fleet's owner said it held government permits and had done nothing wrong.
"We are in contact with the East Timor government right now," said a spokesman for Chinese company Pingtan Marine Enterprise, adding it would make an official statement later.
Sea Shepherd said police had told them that sharks were protected under national law. Police did not immediately comment to the BBC.
Gary Stokes, captain of Sea Shepherd vessel Ocean Warrior, said he believed endangered species had been caught in the haul.
"It was like a scene out of a horror movie, just piles and piles of sharks in bags," he said.
He said Sea Shepherd would continue to monitor the fleet, now numbering 15, while they waited to hear from authorities.
The group transported police to the vessels because East Timor had limited sea-patrolling capabilities, he said.
"These vessels get a licence to come in and they have full carte blanche to do whatever they want because they cannot be seen," Mr Stokes said.
Shark fin is considered a delicacy in Chinese cuisine, and is usually served as a soup at banquets. Critics say demand for fins is wiping out endangered species and fuelling illegal trafficking.