'We're not bridesmaids,' insist identically dressed guests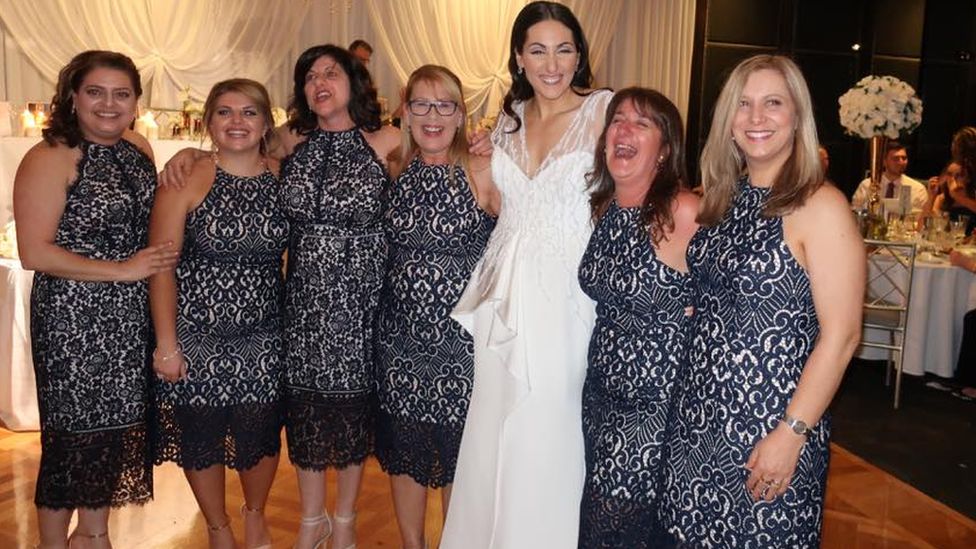 For many women, turning up to a 'do' in the same dress as someone else would be crushing, but when you find five other wedding guests have picked the same outfit all you can probably do is laugh.
So instead of spending the day at a wedding in Sydney, Australia, trying to avoid each other, six friends in almost identical dresses decided to poke fun at themselves and lined up for a photograph with the bride, Julia Mammone.
Julia also saw the funny side along with Facebook users who have viewed and shared the photo more than 42,000 times.
It was posted by Debbie Speranza, who dubbed herself and her friends "#backupbridesmaids." Laughing at the coincidence, Debbie posted a second photo, and asked: "What are the odds?"
Slightly overwhelmed at the "outta control" social media reaction, Debbie said she was still amused by what happened.
Debbie also shared the photo with the shop where the women had bought their dresses, saying: "You really should start a bridal registry so that your customers can enquire whether anyone else has purchased one of your dresses for the same event - no we are NOT the bridesmaids just the guests."
That post alone drew more than 10,000 comments with friends tagging each other with memories of similar, if not such large-scale, fashion faux pas.
Jamie-Leigh Austin's friend Laura Frazer said wearing the same dress to a wedding as a stranger was a great conversation starter.
But Yeng Vang wrote: "My worst nightmare being dressed the same as someone else. I would literally go home and change."
And Sandra James wrote about turning up to her daughter's wedding only to find she was wearing the same outfit as the mother-of-the-groom.
Rather than dodging the photographer, she said she was on "such a high" that both women just decided to get on and embrace the day.
But spare a thought for Chantel Lopex-Rubio.
It can be hard enough to cope when you're at a fancy function wearing the same dress as another guest - or as five others - but how do you recover when you realise your expensive frock is a dead ringer for the curtains?
By Annie Flury, UGC and Social News Team