Former Serb commander 'Captain Dragan' jailed for war crimes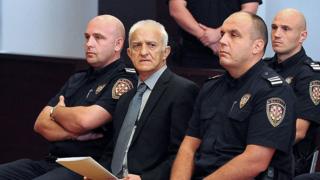 A former Serbian paramilitary commander with Australian dual citizenship has been sentenced to 15 years in jail for war crimes.
Dragan Vasiljkovic, also known as "Captain Dragan", was convicted of torturing prisoners and a deadly attack on a village during the Croatian war of independence in the early 1990s.
He had been living in Australia prior to his extradition to Croatia in 2015.
Vasiljkovic, 62, was convicted by a court in the town of Split on Tuesday.
The court heard that Vasiljkovic had directed his subordinates to torture captured Croat soldiers in a makeshift prison he had set up in the rebel Serb stronghold of Knin.
He was also found guilty of orchestrating an attack on the town of Glina which killed two civilians and forced others to flee their homes.
Vasiljkovic was acquitted of the 1993 torture and murder of two Croat soldiers in another village.
Long process
During the year-long trial, witnesses told the court of the abuse they had suffered at the hands of Vasiljkovic and his unit.
The former commander has maintained his innocence, calling the trial an "oppressive fascist process".
Vasiljkovic moved to Australia in 1969 and later spent four years in the nation's army reserves before being courted by Serbian intelligence chiefs, The Australian reported.
He was arrested in Australia in 2006, where he had been working as a golf instructor under the name Daniel Snedden.
Vasiljkovic fought for almost a decade to prevent his extradition from Australia, arguing he would not receive a fair trial in Croatia.
His lawyers have said they will appeal the sentence.