Australia PM seeks 14-day detention law for terror suspects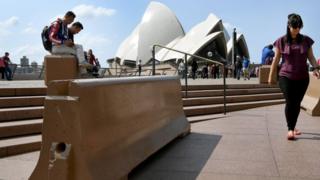 Terror suspects could be held for 14 days without charge in Australia under a push by the nation's government.
PM Malcolm Turnbull said the proposal would replace state laws, which specify varying periods of detention. Most do not currently allow 14 days.
The government also wants to make it illegal to possess terror-related "instructions", such as bomb manuals.
Mr Turnbull will seek support from state and territory leaders at a national security summit this week.
"The aim is to have consistent pre-charge laws to enable somebody who has been charged to be detained and questioned up to 14 days," Mr Turnbull told the Australian Broadcasting Corp on Wednesday.
"There is no place for set-and-forget with national security."
Mr Turnbull said police would require approval from a judge to hold a suspect for up to 14 days.
He said possessing material likely to be useful to a terrorist should also be an offence, bringing Australia in line with nations such as the UK.
The creation of nationally consistent laws on terror hoaxes is also under consideration, as is whether to enter state driving licence photos into a national database.
Australian police have foiled several alleged terror plots in recent years, including a suspected plan to bring down a plane.