MasterChef Australia judge fined for assault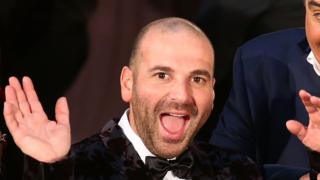 An Australian celebrity chef has been fined A$1,000 (£600; $800) for assaulting a football match spectator.
George Calombaris, a MasterChef Australia judge, had pleaded guilty to punching the man at the A-League grand final in Sydney in May.
Video showed Mr Calombaris confronting the man before the assault took place.
Mr Calombaris said he would appeal a decision by a Sydney magistrate to record a conviction over the incident.
Magistrate Peter Miszalski said it was appropriate for the chef to face "some element of deterrence" for what he called "a very public display of aggression".
The court heard that Mr Calombaris felt shame over his actions, which had led to the loss of a A$300,000 sponsorship.
The appeal over the conviction will be heard in January.
Earlier this year, Mr Calombaris apologised over a separate incident involving the underpaying of staff at his restaurant company.