Australian accused of sending money to IS fighter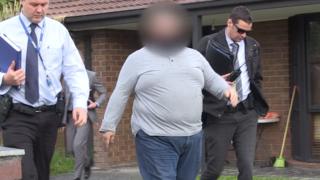 An Australian man has been charged with sending money to a US citizen fighting for so-called Islamic State in Syria.
The man, 43, was arrested at his Melbourne home on Tuesday after a 16-month investigation by counter-terrorism authorities.
There is no current threat to the public, authorities said.
Police allege the Australian national helped run a promotional website for the US man and sent about A$5,000 (£3,000; $4000) to him in Syria.
The money was allegedly transferred in up to 10 transactions between April 2013 and November 2014.
They included the suspect's own money and payments he had received from unidentified bank accounts overseas, police said.
"He certainly holds extremist views that we believe were obtained online," Victoria Police deputy commissioner Shane Patton said on Tuesday.
The man is due to face a Melbourne court on Tuesday.