Will Australia's dual citizenship saga continue?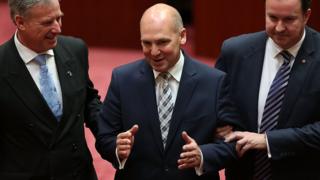 Australia's highest court made a long-awaited decision on Friday about seven politicians caught up in a dual citizenship saga, ruling five of them ineligible for office.
But just four days later, an eighth politician, Senate President Stephen Parry, revealed that he could be a UK dual citizen by descent through his father.
Mr Parry confirmed the status on Wednesday and said he would resign, arguing that the High Court of Australia had provided "absolute clarity" about constitutional rules on eligibility.
For many observers, the revelation revived another question: could even more politicians face scrutiny?
Under Australia's 116-year-old constitution, dual citizens are banned from running for federal office.
Being unaware of a citizenship is not grounds for exemption, the court clarified on Friday, when it disqualified Deputy Prime Minister Barnaby Joyce and others.
The two senators who survived scrutiny, Matt Canavan and Nick Xenophon, were ruled to be eligible for separate reasons.
But criticism of the politicians has intensified since the saga began in July, and some local commentators were scathing after Mr Parry's announcement:
"It's not the cost, the annoyance of a by-election, the stupidity of people not knowing their own citizenship status or the uncertainty over who should be in Parliament. In the end, it's the arrogance of our MPs that really gets you. The sheer sense of entitlement that takes your breath away," wrote Judith Ireland in the Canberra Times.
"It is possible there are other Parrys, and that they are too stupid, too cowardly or too calculating to come clean," said political commentator Niki Savva in The Australian.
"How much more constitutional calamity can the Australian public take?" headlined a piece by Matthew Doran for the Australian Broadcasting Corp.
Is there an answer?
Prime Minister Malcolm Turnbull said Mr Parry had chosen "to delay" his revelation, although he did not say by how long.
"I'm disappointed that Senator Parry didn't make public this issue some time ago. Quite some time ago," Mr Turnbull said.
He said it remained up to individual politicians to come forward if they believed their eligibility was in question.
However, others such as Richard Di Natale, leader of the minor Greens party, have called for an official audit of sitting politicians' citizenships.
"There is a huge shadow right now hanging over the federal parliament. People are losing faith in our democracy," Mr Di Natale said.
His call has received support, including from some government MPs and others.
"[Mr] Parry has proved just how pathetic our politicians can be, which only increases the possibility that there are more people in trouble who have not declared themselves," said Laura Tingle in the Australian Financial Review.
However, Mr Turnbull and the main opposition Labor party continue to oppose an audit. Both have said any doubts should be resolved by the court on a case-by-case basis.
Others have suggested changing the relevant constitutional section, arguing it does not reflect a nation where almost half the population was born overseas or had at least one parent born abroad.
Amending the constitution would require a national referendum. Some commentators have said that Australians could find that unpalatable when other debates, such as one over indigenous recognition, remain unresolved and may also require a referendum.