Australia dual citizenship: Turnbull decries 'witch hunt'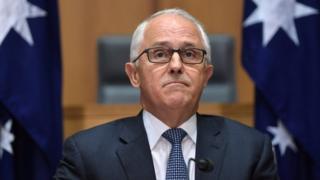 Australian PM Malcolm Turnbull has said he will not conduct a "national witch hunt" to resolve a dual citizen saga that has rocked the country's politics.
Six politicians who were dual citizens when elected have lost their jobs since July. Under the constitution, MPs must be citizens of Australia alone.
Mr Turnbull has faced calls to resolve the saga with a parliament-wide audit.
But he again rejected the idea on Friday, after criticising what he called "absurd" scrutiny of a minister.
"We are not going to engage in some kind of national witch hunt. We are a nation governed by the rule of law," Mr Turnbull said at a press conference.
On Friday, Energy Minister Josh Frydenberg became the latest politician to be caught up in the saga - denying suggestions that he could be a Hungarian citizen by descent.
Mr Frydenberg said his mother had migrated to Australia in 1950 as a "stateless" Jewish refugee, and he was "very comfortable" that he was not ineligible.
The Australian newspaper said Mr Frydenberg may have inherited dual nationality because Hungary had laws conferring automatic citizenship to people born between 1941 and 1945. Mr Frydenberg's mother was born in Hungary in 1943.
Mr Turnbull said: "Has this witch hunt become so absurd [that] people are seriously claiming that Josh Frydenberg is the citizen of a country which has stripped his mother and her family of their citizenship, and would have pushed them into the gas chamber had it not been that the war was ended before they had time to do so?"
Audit debate
Last week, a court ruled that five politicians - including Deputy Prime Minister Barnaby Joyce - had been wrongly elected.
Calls for an audit of all parliamentary members grew louder this week when Senate President Stephen Parry revealed he was also a dual citizen.
However, such action has been resisted by the government and the Labor opposition.
Greens party leader Richard Di Natale has said a "huge shadow" will remain over the parliament until the situation is resolved through an audit.
Mr Joyce will contest a by-election in his seat on 2 December, having renounced his New Zealand citizenship in August.