Australia refuses NZ offer on Manus Island refugees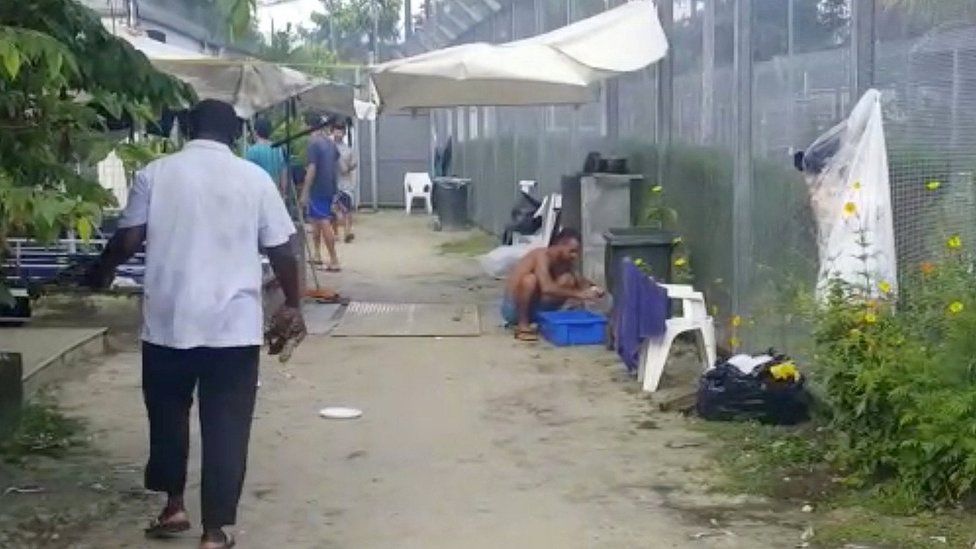 Australian PM Malcolm Turnbull has turned down a renewed offer from New Zealand to resettle some refugees from a Papua New Guinea detention centre.
About 600 men are refusing to leave a decommissioned Australian centre on Manus island saying they fear attacks from locals.
Mr Turnbull said he would not, at this time, take up the offer from New Zealand PM Jacinda Ardern.
The two leaders held talks in Sydney on Sunday.
Ms Ardern had said she could not ignore "the human face" of what Australia was dealing with.
Under a controversial policy, Australia refuses to take in any asylum seekers trying to reach its territories unofficially by boat. Those who arrive are placed in camps on Manus Island in Papua New Guinea (PNG), and on the Pacific island of Nauru.
New Zealand first said it would take 150 of the asylum seekers in 2013, but the offer has been repeatedly rejected by Canberra.
The BBC's Phil Mercer in Sydney says Mr Turnbull is keen to pursue a deal reached last year with the US, which agreed to resettle hundreds of migrants from the offshore Australian camps.
Australia withdrew from the Manus Island centre on Tuesday, following a PNG court ruling that the centre was unconstitutional.
The men - most of whom have refugee status - have now lost access to running water, electricity and working toilets, and their food supplies are dwindling. They have begun digging into the ground to find water and set up catchments to collect rain.
The UN refugee agency has said some of the alternative accommodation allocated for the men is not ready.
The agency and rights groups have warned that the men have legitimate fears for their safety, and that attacks on asylum seekers have occurred in the past in PNG.
"I think anyone would look at a situation like that and see the human face of what is an issue that New Zealand is in the lucky position of not having to struggle with, and Australia has," Ms Ardern said on Thursday.