Australian PM cancels parliamentary week amid key debates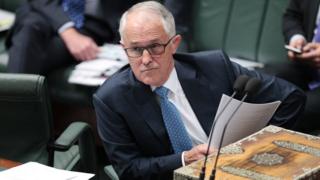 The Australian government has cancelled a week of parliament, arguing it will help legalise same-sex marriage and resolve a dual citizenship saga.
The lower house will return on 4 December, not 27 November, and not break for the year until the marriage bill is passed, the government said.
It gives the Senate time to finish debating the bill before it moves to the lower house, a minister said.
The opposition accused the government of acting like a "dictatorship".
The new schedule will mean a 1 December deadline for all MPs to disclose their citizenship status in parliament will be pushed back to 5 December.
Since July, eight politicians have been unseated for holding dual citizenship - a status that is prohibited for MPs and senators - and there is speculation that more could follow.
Prime Minister Malcolm Turnbull lost his majority in the 150-seat House of Representatives after the saga claimed two lower house government MPs - Barnaby Joyce and John Alexander.
Mr Turnbull is facing mounting pressure to resolve the citizenship matter, and legalise same-sex marriage quickly. Last week, the result of a national vote showed decisive support for same-sex marriage.
Opposition vows to ignore schedule
Government minister Christopher Pyne said the Senate was not likely to finish debating the same-sex marriage bill, which was introduced last week, until 30 November. It will then proceed to the lower house.
"The Australian people expect their parliament to respect the clear mandate of the marriage survey and legislate for marriage equality by the end of the year," he said in a statement.
The opposition Labor party said the delay was an "outrageous" tactic when parliament could debate other bills, and vowed to "turn up on Monday" regardless of the schedule.
"I think this is the sort of thing that happens in a dictatorship," Labor deputy leader Tanya Plibersek told Sky News.
"Where parliament becomes inconvenient, the government suspends democracy."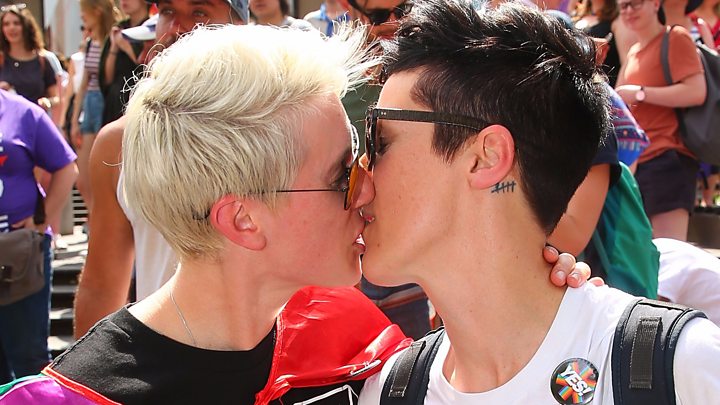 Greens leader Richard D Natale said: "[Mr Turnbull] has lost control of his team and he's lost control of the parliament."
The schedule means Mr Turnbull may delay a potentially embarrassing showdown with some government MPs, amid speculation they could vote with Labor to demand an inquiry into the nation's banks.
Mr Turnbull could regain his parliamentary majority if Mr Joyce and Mr Alexander win separate by-elections in December. Mr Pyne said even if they won, neither would return to parliament this year.