Nasa tracking station in Australia hit by staff strike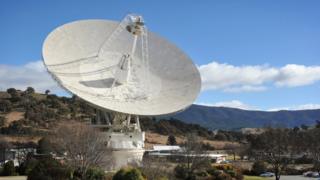 Communications from Nasa's Australian deep space tracking station will be taken briefly offline on Wednesday when staff go on strike over a pay dispute.
The Canberra Deep Space Communication Complex is one of three Nasa sites globally that provide constant radio contact with more than 30 spacecraft.
About 60 workers will go on strike for an hour, forcing staff at a US station to work overtime.
Nasa said the dispute would not affect operations.
While funded by Nasa, the tracking station is managed by Australia's government science agency, the Commonwealth Scientific and Industrial Research Organisation (CSIRO).
The Australian workers, who include engineers, electricians and office staff, claim they will receive reduced pay and work conditions under a new CSIRO agreement.
"It's Nasa money and they're applying Australian federal government guidelines to us, but it doesn't apply to us," union official Mick Koppie told the BBC.
The strike will last for an hour from 14:20 local time (03:20 GMT) in a bid to raise the profile of the dispute with Nasa. The CSIRO said the workers are covered by Australian workplace agreements.
Nasa said there would be "no impact to the operation of the Deep Space Network" because staff in the US will work an hour of overtime.
What is the role of the Australian station?
The complex, just outside of Canberra, works alongside two other Nasa stations in California, US, and near Madrid, Spain.
The stations are approximately 120 degrees apart, ensuring at least one can transmit signals as the Earth rotates, Nasa says on its website.
The stations receive scientific data and images from Nasa missions in the solar system and beyond, such as Voyager 1, the Cassini spacecraft and the Mars Odyssey.
An Australian satellite dish was integral in communications for the Apollo missions, and was the first to beam back images of the Moon landing in 1969.