Australian school apologises for 'suggestive' saint statue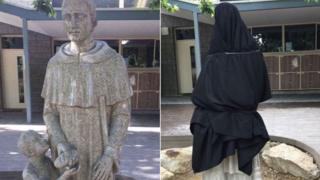 An Australian school has covered a statue from view because of its "potentially suggestive" depiction of a saint handing a loaf of bread to a boy.
The Catholic school in Adelaide apologised on Wednesday for the statue, which was completed recently.
The sculpture, portraying St Martin de Porres, was widely criticised after images of it were posted online.
The unfortunate position of the loaf of bread held by the saint led to some misreading the scene.
Blackfriars Priory School said it had commissioned a new sculptor to "substantially alter" the design.
In a message posted on Facebook, principal Simon Cobiac apologised to the school community for "any concerns and publicity" caused by the statue.
He said the school had approved its design and commissioned a sculptor in Vietnam, but "upon arrival the three-dimensional statue was deemed by the [school] to be potentially suggestive".
The Adelaide Advertiser newspaper said the statue had been installed last week and later covered with a black cloth.
It drew public attention after an image of the statue was posted on a popular Adelaide Instagram account, where it attracted hundreds of comments.
"Who designed that...surely someone has to say 'mmm big mistake'," wrote one commenter, in a sentiment echoed by many.
Mr Cobiac said the design had been intended as a "depiction of the tireless work of St Martin de Porres, a Dominican brother, for the poor and downtrodden of the 16th Century".