Trekking for 1,800km in Australia's outback with a toddler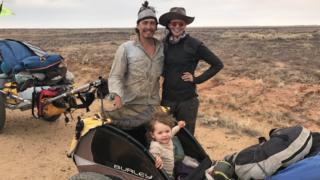 Many people might struggle to keep up with these Joneses - a couple who took their one-year-old daughter on a family trek across Australia's outback.
Justin and Lauren Jones, from Sydney, recently returned with daughter Morgan from the 102-day expedition.
They completed their 1,800km (1,100 miles) trip through central Australia on foot - pulling the girl on a cart.
"It was about us proving to ourselves we could actually live an adventurous life with a family," Mr Jones said.
From July to October, the family walked from Dockers Creek, in the Northern Territory, to Port Augusta on South Australia's coast.
Mr Jones, an experienced explorer, has previously undertaken extreme challenges including trekking across Antarctica.
However, he said he gave up an aspiration to walk across Australia when Morgan arrived - believing it would be impossible to achieve with a young family. His wife had another idea.
"It was amazing when Lauren turned around and said, 'why don't we go as a family and try to challenge that idea that you can't have an adventurous life'," Mr Jones told the BBC.
"When you have kids, everyone tells you the walls get really close and you can't stray out too far and you have to keep everything safe.
"It's hard enough to just get out of the house when you have a kid. So you might as well go full out and follow a passion, and something you really want to pursue."
The family walked about 25km each day along dirt tracks in often-difficult terrain. It was a physical struggle both in desert and scrubland, Mr Jones said.
The trio faced temperatures ranging from below zero to 41C, and battled through thunderstorms and wild weather.
They carried all their food, water and camping supplies behind them in carts. The load towed by Mr Jones could weigh up to 270kg (600lb). Ms Jones pulled Morgan along in a modified bike mobile.
They ate meals of freeze-dried vegetables and meat cooked on a fire. Every few weeks they stopped by a station or an indigenous community where they picked up pre-organised food packs and medication.
Thousands of people followed the journey through the couple's blog posts and social media updates.
Mr Jones said the most satisfying element was watching his daughter along the way.
"Lauren and I wanted to raise a strong, resilient, nature-loving girl. In Bondi [in Sydney], it was harder to do that in the confines of our apartment," he said.
"It was amazing to see her flourish and develop in the outdoors. She adapted to it faster than we did. The environment just became her normal."
But he said there were also challenges at times because of Morgan's age - as with any child - which included her having teething pains.
He said overall, though, it was highly rewarding.
"Every single moment we were together as a family. In modern society, that's fairly rare," he said.
The family received sponsorship for the trip, including equipment and supplies, and fundraised about A$7,000 (£3,900; $5,300) for an indigenous health service along the way.