Same-sex marriage officially signed into law in Australia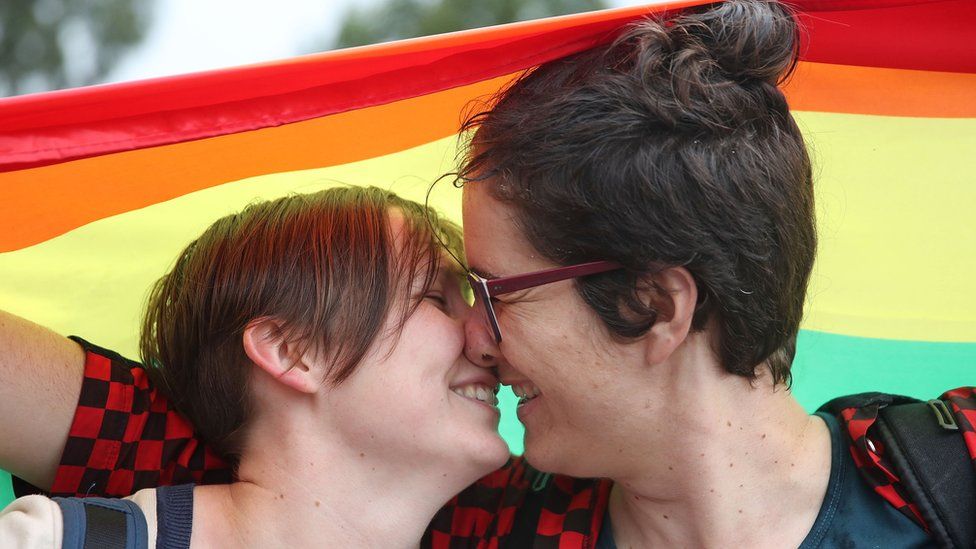 Same-sex marriage has been officially signed into law in Australia, a day after MPs overwhelmingly approved a historic bill.
Australia's Governor-General Peter Cosgrove signed off on the law on Friday - a formality required to enact the legislation.
The vote on Thursday set off rarely matched celebrations in parliament, including cheers, hugs and a song.
Supporters celebrated across Australia, many donning rainbow colours.
"So it is all done. It is part of the law of the land," Prime Minister Malcolm Turnbull said after a brief ceremony on Friday.
He said the law would take effect immediately after midnight.
The first marriage ceremonies will happen from 9 January, given couples must give a month's notice of their intention to wed.
Same-sex weddings conducted overseas will be immediately recognised in Australia.
"Australians had their say and overwhelmingly voted yes to marriage equality, to love, respect and commitment," Mr Turnbull said.
"They told us politicians to get on with it and we did."
Mr Turnbull called the marriage reform one of the most significant achievements of his government to date.
However, the government has also faced criticism from political opponents who say it delayed the legislation due to internal division.