Acting on Australia's landmark abuse inquiry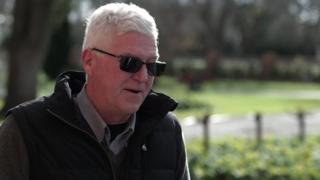 There are few countries in the world that have confronted the issue of child abuse as comprehensively as Australia.
On Friday, a royal commission inquiry submitted its final report after almost five years of investigations.
Churches, charities, sports clubs, schools and children's homes - all have come under its microscope, and all have been found wanting.
Victims who were raped, bullied and then belittled for years were finally given a voice by the Royal Commission into Institutional Responses to Child Sexual Abuse.
The question now is what its legacy will be.
"It was very emotional, very draining," says Phil Nagle, an abuse survivor from Ballarat who gave evidence to the commission in 2015.
"But the way they treated us survivors, it was very caring - it made those that had struggled to tell their story feel comfortable to come forward."
This has been one of the key achievements of the inquiry - enabling people to report abuse that had been hidden for decades, and to know they would be taken seriously.
More than 2,500 cases have been referred to authorities for investigation, and the support on offer to abuse survivors has improved.
The scope of the inquiry
2559
allegations referred to police since the inquiry began in 2013
230 prosecutions have commenced

41,770 calls received from members of the public

60,000 survivors may be eligible for compensation, estimates say
Getty Images
"Care and compassion has already lifted tenfold," says Phil Nagle. "We need to make sure we keep people alive and in a good place, by making sure they've got the counselling care they need."
Will governments follow through?
Ensuring long-term support for abuse victims is likely to be one of the final recommendations - but there are questions over what compensation will be on offer.
In October, the federal government published plans for a national redress scheme that would entitle victims to claim up to A$150,000 (£85,000; $115,000) each.
But it is still unclear whether all state governments and church authorities will sign up to it.
With the total bill estimated to be around A$4bn ($3bn; £2.3bn), there could still be a lengthy political row over who should pay what, in order to help those whose lives have been damaged.
Just as important will be introducing safeguards to try to prevent child abuse in the future.
One of the key issues raised during the commission's work was that of mandatory reporting.
Every state and territory in Australia has laws obliging people such as teachers and doctors to report potential abuse to authorities.
But the royal commission has shown the way those laws have been interpreted has varied widely, leaving cracks in the system.
It also highlighted the fact that abuse disclosed during religious confession has remained secret, under the rules of the Catholic Church.
Some paedophile priests even took advantage of this as a way of hiding their abuse, confessing it to a colleague in the knowledge they would not be reported to police.
Legislation to apply mandatory reporting to confession would trigger debate across the Catholic world.
As with many of the issues scrutinised by the royal commission, it has raised questions for bodies far beyond Australia's borders.
The hope is that the rigorous, often heart-breaking process this country has been though will ultimately help authorities across the world tackle the problem of institutionalised abuse.