Adelaide man charged after beach brawl following teen's death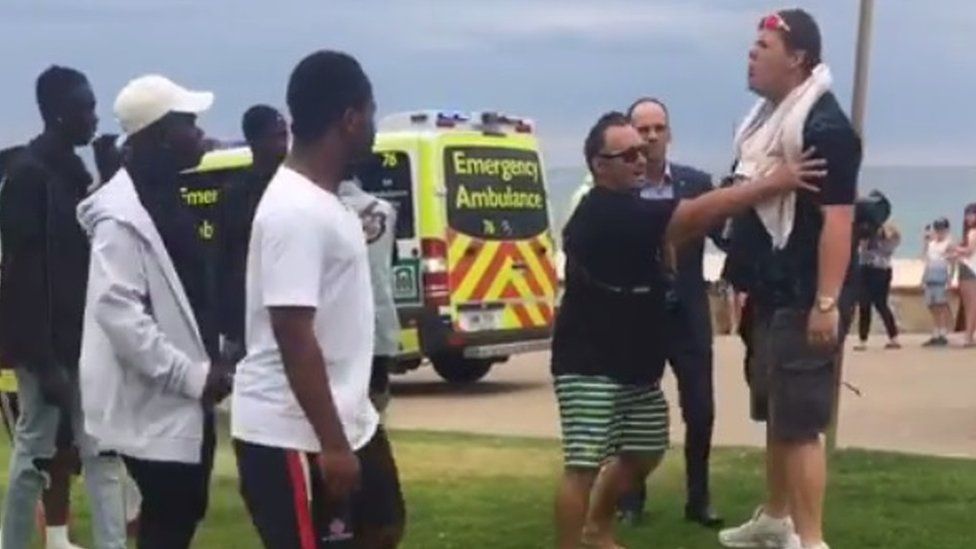 A man has been charged with disorderly behaviour after a brawl at an Australian beach following the death by drowning of a 15-year-old boy.
Eliase Nimbona, originally from Burundi, was pulled unconscious from the water at Adelaide's Glenelg Beach on Monday.
Video posted on social media appears to show the man yelling racial slurs at a group of his friends shortly after.
He calls them "dogs" and "weak", sparking a violent reaction.
Some of the boys turn on the man, punching and kicking him.
Members of the public can be seen trying to break up the fight, with one woman yelling "Stop it, stop it".
Eliase had been attending a birthday party at the beach, local media reported.
He was found floating face down in the water. Paramedics attempted to resuscitate him but he died at the scene.
The Facebook user who posted the video accused the man of "instigating" the fight, and said he had been "filming and mocking the grieving families".
Police confirmed they were aware of the video, which has been viewed nearly 400,000 times online.
They said fight had broken out shortly after Eliase's death, but could not confirm the incidents were directly related.
The 31-year-old man has been with charged with disorderly behaviour and carrying an offensive weapon after he was found with a knife.
Eliase Nimbona is the second person to drown at Glenelg Beach in the past two weeks, following the death of an Indian schoolgirl on 10 December.
He was described as a "good boy" by a spokesman from the Burundi Community Association of South Australia.
"It's very sad - he was too young."