Virtual reality film shows terrifying reality of bushfires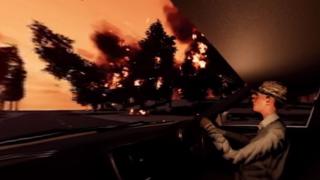 Australian authorities have released a virtual reality recreation of nightmare bushfire scenarios.
The simulation is part of an effort to encourage residents in the state of Victoria to prepare for extreme danger.
Australia's south-east is braced for a scorching weekend with temperatures forecast as high as 45C (113F), bringing dangerous fire conditions.
The virtual reality programme features three scenarios to show how responding late to a bushfire can prove fatal.
"Through this type of technology, they will be able to see the scenario of what they might be faced against and will make a better decision," state Emergency Management Commissioner Craig Lapsley told the ABC.
Australia's most deadly bushfire event, known as Black Saturday, killed 173 Victorians in 2009 after sweeping through several communities.
The simulation begins by urging residents to decide early whether to evacuate, seek shelter, or stay and defend their property.
It then immerses the viewer in scenarios where they face walls of flames, spitting embers and smoke that inhibits sight and breathing.
It ends by saying most bushfire deaths happen close to homes.
"Leaving early on high risk days before a fire starts is the safest option. It is your responsibility to be ready this summer."
Children and those who have experienced bushfire trauma are not recommended to experience the simulation, authorities say.
Extreme heat is predicted to hit south-eastern states from Friday, with state-wide fire bans issued in Victoria and Tasmania.
In September, Australians were warned to prepare for a dangerous bushfire season after one of the driest winters on record.