Koala screwed to post sparks anger in Australia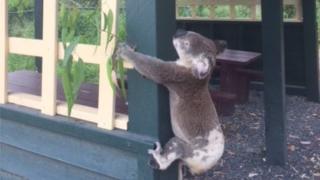 Australian animal welfare authorities are investigating the discovery of a dead koala that was screwed to a wooden post, in an act criticised as "sick".
The incident has caused widespread anger after a photo of the marsupial was posted on social media.
Council workers found the koala fixed by its paws to a wooden shelter in a park in Queensland on Wednesday.
The perpetrator could face animal cruelty charges if found, animal protection charity RSPCA said.
It is not yet known how the koala died. Its fur was matted with blood, and gum leaves had been hung in front of it.
"It's just sick, it makes me want to throw up," Murray Chambers, from Koala Rescue Queensland, told the BBC.
"I've been doing this job for 10 years and I've never seen anything like it."
The not-for-profit group put the image on Facebook in a bid to find the perpetrator, in a post that has drawn thousands of shares.
Commenter Sandy Fiorentini wrote: "How sad to think we as humans could inflict such cruelty on a defenceless living creature... there are sick humans out there."
You might also be interested in:
Giant bat remains discovered in New Zealand
Yakuza boss caught after tattoos go viral
Woman behind Media Men list comes forward
Mr Chambers said the koala may have been struck by a car. The picnic area was close to a road in Imbil, about 120km (75 miles) north of Brisbane.
"My gut feeling is that it was hit but why would you screw a koala to a wooden structure?" he said.
"And was it alive when they did it?"
The koala was fixed to the pole with building screws, local media reported.
The RSPCA has requested an autopsy as part of an investigation, spokesman Michael Beattie said.