The evolution of Australia Day controversy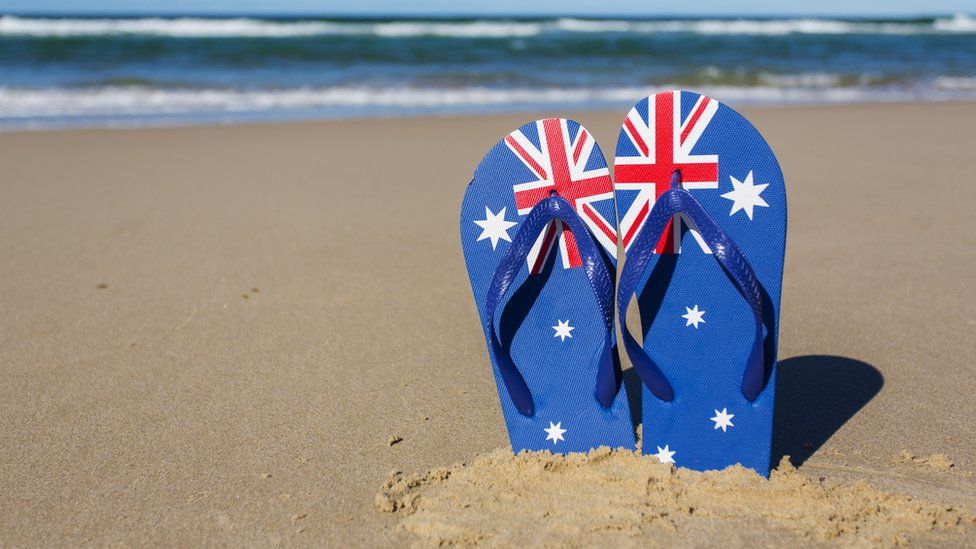 Australia's national day of celebration has drawn much criticism recently from those who say it causes unfair hurt to indigenous people. But the controversy, like Australia Day itself, has evolved over many years, reports Sharon Verghis from Sydney.
More than most other nations, perhaps, Australia has a relaxed relationship to its national day.
Australia Day, on 26 January, commemorates the day in 1788 when Captain Arthur Phillip, commander of the First Fleet of 11 British ships, arrived at Sydney Cove to signal the birth of the colony.
On Friday, many in this nation of 24 million people will once again gather on beaches and around barbeques to celebrate.
From regattas to camel races, flip-flop-throwing carnivals to outdoor concerts, Australians will mark a public holiday more popularly treated as a late summer festival than the solemn national day its founders intended it to be - a unifying celebration of the good fortune of being Australian and the values that bind the nation: democracy, freedom, independence, a fair go, mateship.
But what does 26 January really mean for Australians and how did it come to be?
An old and new celebration
Like all national days, the significance attached to Australia Day has changed over time.
It is also, in its current form, relatively new. Not until 1994 was there consistently a national public holiday on 26 January, rather than on the nearest Monday.
In 1818, New South Wales (NSW) formally marked 30 years as a colony with a triumphant 30-gun salute, the first official celebration of the date. It became an annual public holiday there in 1838 and remained a NSW-centric commemoration for many years.
But by 1888, 26 January had become known as "Anniversary Day" and was a public holiday in all capital cities except Adelaide.
The inauguration of the Commonwealth of Australia in 1901 reinforced momentum for a foundation holiday. By the 1920s, Anzac Day had become a national holiday but was regarded as a day of sombre commemoration of Australia's war casualties rather than a celebration.
The search for a national day that fit this latter description continued - ending in 1935 when all states of Australia agreed to adopt a common name and date.
In the 1980s, the Australian government began to take an increasingly prominent role and established the National Australia Day Committee. By 1994, all states and territories began to celebrate a unified public holiday on the actual day for the first time.
How opposition was voiced
Australian historian Prof Kate Darian-Smith, from the University of Tasmania, says that Australia Day, now far from its roots, sparks a sometimes heated annual public debate about cultural identity, history and what it means to be Australian.
"In the commemorations in 1938, and then in 1988, there were restagings of the arrival of the First Fleet to Australia - and we would not see this now," she says.
"Australia Day had become a politicised flashpoint for discussion about how we should celebrate the past, and recognising what the day means for indigenous people."
For indigenous Australia, a historic protest came during sesquicentenary (150 years) celebrations in Sydney in 1938, when more than 100 Aboriginal people gathered for a conference to mark the "Day of Mourning".
But the notion that indigenous Australians had been "robbed" of their land by the colonists was even acknowledged in the 19th Century by Henry Parkes, a NSW premier.
In 1988, a protest march of more than 40,000 indigenous and non-indigenous people took place in Sydney, entrenching a tradition of "survival day" and "invasion day" concerts, marches and protests which continue today.
Indigenous protest has continued to grow, mirroring similar movements surrounding days commemorating European colonisation, such as Thanksgiving in the US. It has dovetailed with heightened political and community activism coalescing around a "change the date" campaign.
The push has been spearheaded by the left-wing Australian Greens and others who regard the date as more divisive than unifying, making Australia Day the antithesis of the harmonious national festival organisers had intended.
Australians don't appear to be particularly fixated on maintaining the 26 January date.
Over the years, suggested alternatives have included 27 May, the date in 1967 when indigenous people were finally allowed constitutional rights, and 1 January, the day Australia's constitution came into force. Even 8 May - a pun on "mate" - has gained popular support.
But Prime Minister Malcolm Turnbull has ruled out any changes, expressing his disappointment at the "divisive" actions of Australia Day reformists.
Interestingly, says Prof Darian-Smith, there has been an upsurge of millennial-fuelled patriotism for Anzac Day, a day of remembrance for Australian and New Zealand forces who served and died in military conflicts.
"In fact, Anzac Day, sometimes called Australia's secular holy day, has increasingly become the day that national fervour is most expressed," she says.
To many, it holds less historical baggage, is more inclusive of migrants and indigenous veterans, and "is a day embraced very much by a younger generation - the turnout at Anzac ceremonies has become bigger and bigger each year".
But Australia Day retains support from the nation's biggest political parties. "A free country debates its history - it does not deny it," Mr Turnbull has said.
Sharon Verghis is a freelance writer based in Sydney