Top-secret Australian files 'left at second-hand shop'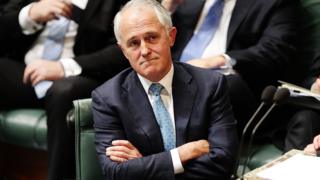 Australian bureaucrats have launched an investigation into how top-secret documents were exposed after being left in a second-hand shop.
The Australian Broadcasting Corp has published a series of exclusive reports this week, citing Cabinet files from current and previous governments.
On Wednesday, the ABC revealed the files had been found in locked filing cabinets purchased at a Canberra shop.
The Department of the Prime Minister and Cabinet ordered an urgent review.
The ABC described it as "one of the biggest breaches of Cabinet security in Australian history", saying the filing cabinets contained hundreds of documents - most of them classified.
How were they found?
The filing cabinets were in a second-hand shop where ex-government furniture is sold cheaply, Australia's largest public broadcaster said.
"The deals can be even cheaper when the items in question are two heavy filing cabinets to which no-one can find the keys," the ABC said in its news report.
"They were purchased for small change and sat unopened for some months until the locks were attacked with a drill."
The ABC did not identify the shop nor the person who had bought the filing cabinets.
What did the files contain?
Australian Cabinet documents are normally sealed and kept confidential until they are released to the public 20 years later.
The documents reported this week were said to delve into the workings of five previous governments over the last decade.
The ABC's revelations include allegations that:
the Australian Federal Police lost almost 400 national security files in five years
former Prime Minister Tony Abbott's government had considered denying welfare to people under 30,
former Prime Ministers Kevin Rudd and Julia Gillard were warned about risks of a home insulation scheme that later claimed four lives,
former Prime Minister John Howard's administration had debated removing the right of people to remain silent under police questioning.
What has been the fallout?
Much of the reaction has been amusement about how the files were found.
However, others have noted that national security information could have ended up with anyone - even a foreign government.
Martin Parkinson, the head of the Department of the Prime Minister and Cabinet, said an urgent review would be conducted, but he declined to comment further to local media.
The discovery comes at a time when Australia is fiercely debating new laws aimed at preventing foreign interference in its politics.
Last month, Mr Turnbull said foreign powers were making "unprecedented" attempts to influence political processes in Australia and internationally.