Brits rescued from flooded river 'containing crocodiles'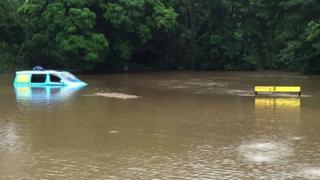 Three British tourists in Australia have been rescued after rising floodwaters stranded them on the roof of their van.
Unaware of the flood risk, the men, all in their early 20s, set up camp next to a river in Queensland, known locally for its saltwater crocodiles.
Water levels rose during the night, forcing the men on to their vehicle roof where they waited until morning.
Emergency services said the men had done the "right thing" by staying put.
The alarm was raised on Tuesday at 6:00 local time (19:00 GMT Monday) after the trio were seen on top of their half-submerged vehicle with 100m of water between them and dry land.
Saltwater crocodiles, which can reach up to 23ft (7m) in length, are known to live in the area.
"The worst case scenario would have been if they thought 'let's give it a go and swim' which would have been a potential life or death situation," said Queensland Fire and Emergency Services officer Guy Bulmer, who was first on the scene.
"You don't know what's in the water. Crocs, logs, debris."
Earlier in the day, other visitors to the area, about 15 miles south of Cairns, had been warned of the flooding risks.
However, they had left by the time the British tourists arrived.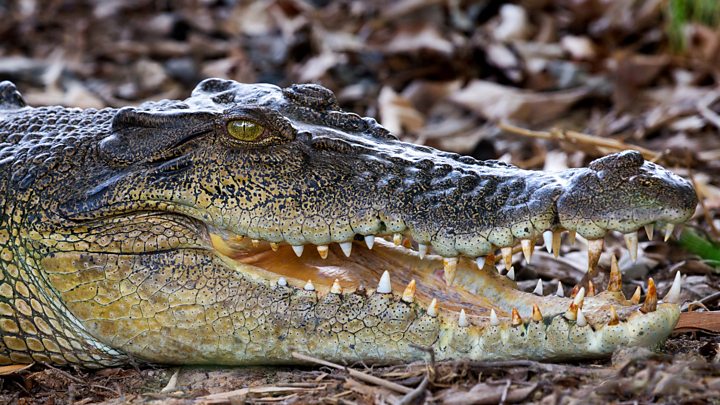 "During the night and the course of the evening they noticed water entering the campervan and there was a croc sign quite close by," said Mr Bulmer.
"The signs are not there for general information. It's quite specific - there are crocodiles there.
"They went to the roof of the van and it's not until they were seen this morning that someone saw them there - they had no shirts on either."
You might also like:
It took emergency services 45 minutes to rescue the men, using a rubber dinghy and lookouts for crocodiles.
"We had people on watch assisted by the police in case any crocs did turn up," Mr Bulmer said.
"They look like logs so they are hard to spot, but they are quite shy and we were making a lot of noise.
"I wouldn't have been surprised if they were around though.
"You've also got debris in the water, it's extremely dirty, so there is plenty of potential for injury and death."
Mr Bulmer added: "After we got [the men] back to dry land they were certainly grateful.
"They had a cold and wet night. They got warmed up and it was happy days because no-one got hurt."
A British woman was less fortunate in November when was bitten on the leg by a crocodile in Cape Tribulation, Queensland.
The same month, a crocodile was also thought to be responsible for the death of a local man, after human remains and clothes were discovered near a creek bank in the north of the state,