Australia given mixed score on indigenous 'gap'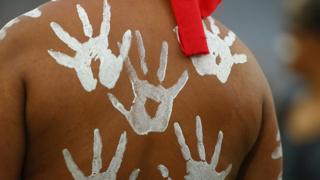 Australia has made some progress in improving the lives of its indigenous people but not in four of seven key areas, an annual report card has found.
The government's Closing The Gap report tracks targets aimed at reducing inequality between indigenous and non-indigenous Australians.
Only one target was met last year.
Prime Minister Malcolm Turnbull said the latest report showed improvement, but not in some areas - such as bridging a gap in life expectancy.
Aboriginal and Torres Strait Islander Australians, who comprise about 3% of Australia's population, continue to experience high levels of disadvantage.
"The last decade has given us a richer understanding about what works and what does not," Mr Turnbull told parliament on Monday.
"Three of the seven targets are on track this year, giving us the most promising result since 2011."
Those targets are reducing infant mortality, enrolling more children in early childhood education, and improving high school completion rates.
Among measures of continuing inequality, indigenous Australians can expect to live about 10 years less than non-indigenous Australians.
Last week, a coalition of experts accused of the government of "effectively abandoning" the Closing The Gap strategy because of funding cuts.
Four of the targets expire this year. The government said the policy would be revised with new goals later in 2018.
Which targets are on track?
Halve the gap in child mortality by 2018
Enrol 95% of four-year-old children in early education by 2025
Halve the gap in students graduating high school by 2020
Which targets are not?
Close the life expectancy gap by 2031
Halve the gap in employment outcomes by 2018
Halve the gap in literacy and numeracy by 2018
Close the gap in school attendance by the end of 2018