The scandal that unseated Australia's deputy PM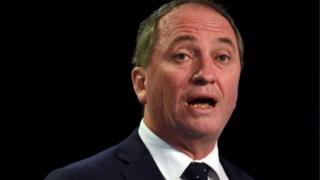 Australia's deputy prime minister, Barnaby Joyce, was briefly evicted from office last year over a dual citizenship eligibility saga. Now, two months after Mr Joyce's return, a fresh scandal has forced his demotion to the backbench.
It has followed damaging political questions arising from his relationship - which began as an extramarital affair - with a staffer who once served in his office.
The scandal has dominated national politics since a photo of the ex-staffer, Vikki Campion, was featured on the front page of Sydney's Daily Telegraph on 7 February, showing her pregnant with Mr Joyce's child.
Immediately it sparked debate about justifications for publishing the image. In Australia, the private lives of politicians are largely kept out of the public eye.
But arguments for the story's public interest quickly emerged.
How the political troubles began
At first, Mr Joyce, leader of junior coalition party the Nationals, was accused of hypocrisy. One criticism focused on his reasons for opposing same-sex marriage before it was legalised by Australia.
During that debate, the conservative politician argued the previous marriage definition had "stood the test of time". However, he also acknowledged that many such unions failed.
"I'll acknowledge that I'm currently separated, so that's on the record," he told parliament in December.
He also faced criticism that he may have disingenuously represented his family life to voters during his campaign to win a by-election last year. Had he lost, Prime Minister Malcolm Turnbull would no longer have had a parliamentary majority.
Other revelations, including that Mr Joyce was now living rent-free in a businessman's property, have also drawn criticism; he had recently encouraged Australians to move away from expensive cities.
But Mr Joyce's real problems began when he struggled to shake off questions about whether he had broken any rules.
One debate centred on how Ms Campion, a media adviser, came to take up separate jobs with Nationals politicians Matt Canavan and Damian Drum last year.
Political opponents questioned whether the unadvertised positions, reported to be well paid, were evidence that Mr Joyce had breached a ministerial code of conduct.
Under the code, partners and relatives of ministers cannot be given jobs with other ministers or executive officials without Mr Turnbull's permission - which was not sought for Ms Campion.
Both Mr Joyce and Mr Turnbull denied that Ms Campion was the deputy prime minister's partner at the time of the appointments. The government has said she was "eminently qualified".
"It is without a shadow of a doubt that Vikki Campion is my partner now," Mr Joyce said last week.
"But when she worked in my office, she was not my partner. When she worked in Matt Canavan's office, she was not my partner. And Damian Drum was not a minister."
Mr Joyce also apologised to his estranged wife Natalie Joyce, their four daughters, and Ms Campion, for enduring a "searing personal experience".
Last week, Mrs Joyce described the situation as devastating: "For my girls, who are affected by the family breakdown, and for me as a wife of 24 years, who placed my own career on hold to support Barnaby through his political life."
She said in a statement that she believed the affair had been "going on for many months and started when [Ms Campion] was a paid employee".
Sex-with-staff ban fails to end scrutiny
The saga reached a dramatic peak when Mr Turnbull called a press conference to admonish Mr Joyce for his "shocking error of judgement". It had set off a "world of woe" and "appalled all of us", Mr Turnbull said.
He then banned ministers from having sex with their staff, but said he would not conduct an "archaeological exercise" into the case of Mr Joyce or others.
The next day, Mr Joyce assembled reporters to accuse Mr Turnbull of making "inept" comments that had only caused further damage.
Political observers wondered whether the two leaders' relationship could ever recover. Talk also turned to the health of their parties' long-standing coalition.
According to local media, Mr Joyce became even more determined not to resign.
Nationals MPs, whose core focus is on regional Australia, appeared split over the future of a man who was not just their leader but most powerful advocate.
But as the issue entered a third week, it remained unresolved. This was in part fuelled by Mr Joyce himself, when he gave a high-profile interview with Ms Campion in their apartment.
On Thursday, it emerged that an allegation of sexual harassment had been made against him by a woman in Western Australia. Mr Joyce called the complaint "spurious and defamatory".
He stepped down as deputy prime minister the next day, calling the accusation "the straw that broke the camel's back". He said he had referred the complaint to police and asked for his "right to defence". He would remain in parliament on the backbench.
"It's incredibly important that there be a circuit-breaker, not just for the parliament, but more importantly, a circuit-breaker for Vikki, for my unborn child, my daughters and for Nat," he said.
"This has got to stop. It's not fair on them."