Australia MP George Christensen criticised over gun photo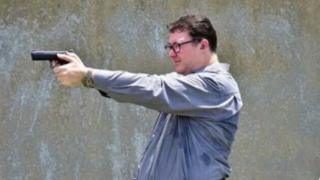 An Australian MP has drawn criticism for posting a photo online that showed him aiming a gun and asking: "Do you feel lucky, greenie punks?"
George Christensen, a government MP, put the photo on Facebook on Saturday.
The Greens party said the conservative MP's post was "disgraceful", noting it came in the same week that 17 people died in a US school shooting.
Police said they would consider whether an investigation was warranted. The MP said his post was a joke.
Mr Christensen said the post was a "tongue-in-cheek" reference to a famous line from the 1971 film Dirty Harry, in which Clint Eastwood's character says: "Do I feel lucky? Well, do ya, punk?"
Prime Minister Malcolm Turnbull said the post was "very inappropriate".
It was unclear whether Mr Christensen's caption was specifically aimed at the Greens or at environmental activists who are campaigning against a proposed coalmine - which is supported by the MP - in his seat.
The Australian Federal Police (AFP) said it was evaluating the post. Political opponents accused Mr Christensen of inciting violence.
Greens MP Sarah Hanson-Young said she had received death threats online following the post.
Mr Christensen said he would not be "moralised at" by the Greens, who he said supported "illegal activism on mine sites".
"Putting a joke up on social media - if that's doing something wrong, then there are a lot of people that are going to be in trouble," he told reporters on Monday.
"It happens every day, every hour in this country."
Mr Christensen had posted the photo as a comment underneath a Facebook post that showed him visiting a gun range.
He then changed his caption read: "You gotta ask yourself, do you have a sense of humour, greenie punks? Obviously not." The MP later deleted the post.
Mr Christensen has previously caused controversy by calling for Australia to ban the burka and consider using corporal punishment on drug addicts.