Australia's MCG bans parking over security concerns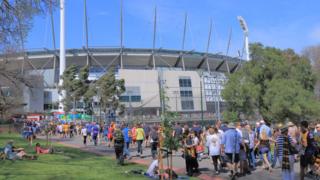 Australia's largest stadium, the Melbourne Cricket Ground (MCG), will ban cars from parking at the venue for big events under a new security plan.
The decision is designed to reduce the likelihood of a vehicle attack that could target a crowd, the stadium's board said.
Two such incidents took place in Melbourne last year, killing a total of seven people. Similar incidents have caused horror around the world.
The MCG recently trialled the ban.
"Ongoing events both around the world and closer to home clearly demonstrate that we need to minimise the risk of interactions between vehicles and pedestrians, especially in crowded places such as outside the MCG," chief executive Stuart Fox said in a statement.
Authorities urged spectators to take public transport to the stadium, which is close to train and tram lines.
Mr Fox said the policy was consistent with the Australian government's strategy to protect crowded places.
The MCG, which can accommodate up to 100,000 spectators, tested the ban during cricket's fourth Ashes Test in December.
Motorists will be able to park outside the ground for smaller events, but they will face greater restrictions than at present.
The state government of Victoria said additional public transport services would run during big events.
Local authorities brought in other public safety measures last year, including road bollards and a new emergency warning system.
In January last year, six people died and dozens were injured after a man allegedly struck them deliberately with a car in the city's centre.
A separate incident in Melbourne in December claimed a man's life and left another 18 people injured.
Neither incident was related to terrorism, police said.