Eastern quoll reintroduced to mainland Australia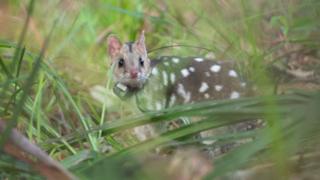 A species of marsupial, the eastern quoll, has returned to the wild in mainland Australia for the first time in about half a century.
The native animals were once found along Australia's east coast until they were devastated by foxes.
About 20 eastern quolls from Tasmania were released into a national park in New South Wales (NSW) on Tuesday.
Wildlife authorities said the animals would be closely monitored, but stand "every chance of success" in the wild.
"This is the first time in Australia that a carnivore extinct on the mainland has been reintroduced to the wild," said WWF Australia spokesman Darren Grover.
The spotted species, about the size of a cat, survived in Tasmania and in captivity after they largely disappeared from NSW in the 1960s.
In 2016, eastern quolls were released into a fenced sanctuary near Canberra, but their reintroduction into the Booderee National Park on Tuesday marks their first return to the wild.
Dr Natasha Robinson, from the Australian National University, said the 20 animals would be monitored for three years via GPS tracking devices.
The movement of foxes would also be examined, following recent efforts to remove predators from the area.
You might also like:
"This will help us understand how resilient the eastern quolls can be to very low densities of feral predators in the landscape," Dr Robinson said.
The programme, assisted by government funding, will also employ movement-sensitive cameras.
Two other native species, the long-nosed potoroo and the southern brown bandicoot, were also recently reintroduced to the national park.