Mummy found in Egyptian coffin that was thought to be empty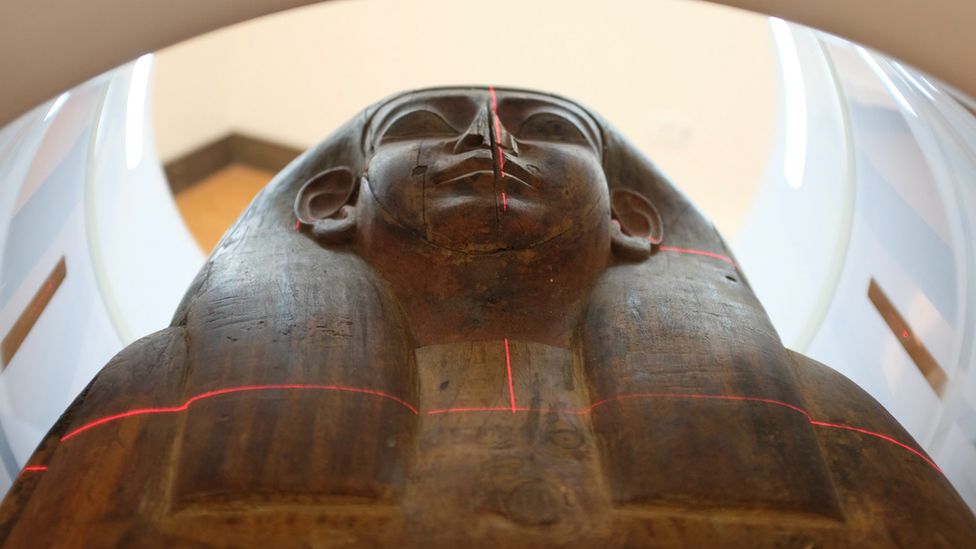 Scientists in Australia have discovered the remains of a mummy in a 2,500-year-old coffin that was previously classified as empty.
The sarcophagus had been left untouched at a university museum in Sydney for more than 150 years.
When scientists opened the coffin last year, they were surprised to find the remains of human feet and bones.
Researchers said the remains were previously damaged, probably by tomb raiders.
Archaeologist Dr Jamie Fraser said the discovery, only now made public, had been a remarkable moment.
"It was just unbelievably astonishing what we saw - one of those moments where you can't help but take in a breath and just hang in the moment," said Dr Fraser, from the Nicholson Museum at the University of Sydney.
"I've never excavated an Egyptian tomb, but this comes close."
The sarcophagus was one of four sourced from Egypt around 1860 by the museum's founder. A handbook later classified it as empty.
Dr Fraser said the "dowdy-looking and nondescript" object had received little attention while Egyptologists studied the other coffins, which appeared more impressive and had complete mummies.
Experts will try to identify the mummy, which was "badly torn apart" and ransacked by tomb raiders at some point in history. Only about 10% of the body remains in the coffin.
Dr Fraser said its hieroglyphics date to about 600BC and show that it was built for a woman named Mer-Neith-it-es, who was either a priestess or a worshipper.
Computed tomography (CT) scans and an excavation were finished last week. It located several bones, bandages, resin fragments, and more than 7,000 beads from a funeral shawl.
Dr Fraser said he hoped that radiocarbon testing would prove that the person died around 600BC. If it does, it is probable "that this person belongs to the coffin and, if it is a woman, it is likely Mer-Neith-it-es", he said.
The find may present research opportunities because modern scientists do not perform physical tests on complete mummies, experts said.
"But in this case we can't do anything to the remains that the tomb raiders haven't already done," said Dr Fraser.
"In fact, by doing this process of excavation we can stabilise the remains and conserve them properly."
Prof John Magnussen, a radiologist from Macquarie University who scanned the coffin, also said the discovery was remarkable.
It had changed "what could have just been a pile of dirt and debris into a real archaeological find", he said.