How Aboriginal Australians forged tools from early British ships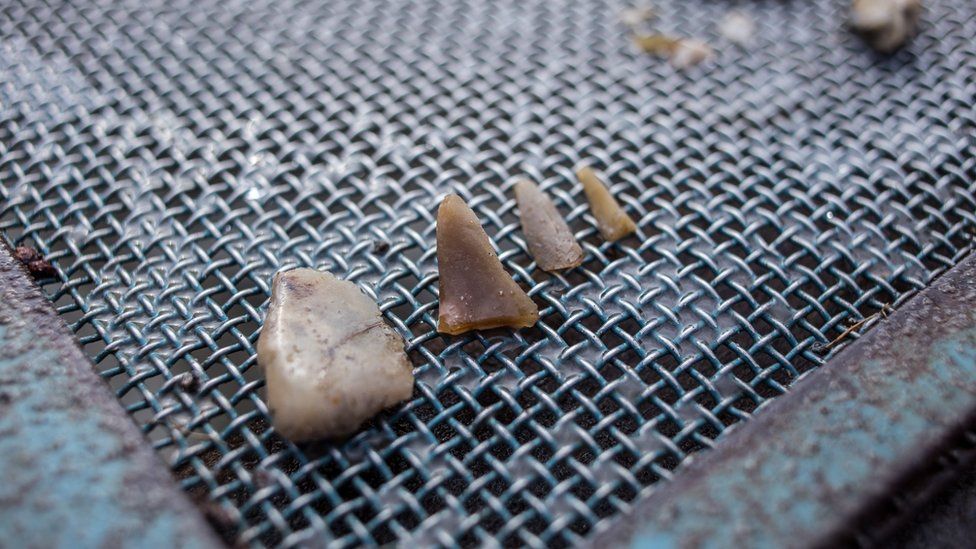 It's an archaeological detective story that began on a building site in Sydney and ended on the banks of the River Thames in London. The BBC's Phil Mercer reports on the unlikely origin of recently found Aboriginal artefacts.
For indigenous Australians, the arrival of British settlers in 1788 undoubtedly marked the start of dispossession, violence and policies that would cause generations of harm.
But recent research has also given more insight into how Aboriginal groups used some colonial technology to their advantage, heritage experts say.
Archaeologists believe that indigenous tribes crafted traditional tools from flint cobbles that had been used as ballast on British ships, following the arrival of the convict vessels during the late 18th and early 19th Centuries.
Experts say the stone fragments were most likely discarded on arrival in Sydney. The materials were then taken by or given to coastal Aboriginal families, who lived in what is now the upmarket Sydney suburb of Randwick.
It was there that workers in 2016 uncovered what was thought to be a trove of Aboriginal artefacts. More than 30,000 pieces of stone were recovered, initially by chance, amid work on a light rail line.
However, after painstaking investigations, archaeologists now believe that only 100-200 are culturally significant items.
Many of the stone fragments were made of flint, a type of rock not found in Sydney.
Dr Tim Owen, an archaeologist from consultant group GML Heritage, said there was compelling evidence that the flint had been reworked for tools in accordance with customary Aboriginal practice.
"This site doesn't just contain the flint material, it contains a variety of other artefacts that show Aboriginal people working there," he told the BBC.
"It shows it is a traditional place that Aboriginal people have been using. When they manufacture Aboriginal objects they don't just hit rocks together, they use very, very specific techniques to actually work the rock down into shaped pieces. We have identified a number of pieces that have very defined points of percussion."
To find the source of the flint, Dr Owen's investigation took him to the other side of the world - to the muddy edges of the Thames near a place where convict ships were once prepared and loaded with ballast for their long voyages to Sydney.
"I went to the nearest [tidal mud flats] I could to the actual former shipyard at Deptford and collected material," he said. "I collected around 50 or so samples of all the different colours I could see, and all the different states of being weathered and bashed."
You might also be interested in:
The London pebbles were compared to those unearthed in Sydney, and after forensic analysis they all were found to be chemically identical.
The initial discovery in Sydney also brought controversy, however. In 2016, a group of Aboriginal elders called for work on the light rail line to be halted, citing the Aboriginal Heritage Protection Act 1984.
"I'd like to see it stopped and the area classed as an Aboriginal heritage area," Darug elder Uncle Des Dyer told the ABC at the time.
But the federal government rejected the bid. It said the site was not at risk of being desecrated, and did not fall within the scope of the act.
The latest artefacts are not the only discovery of their kind in Sydney.
In the 1980s and '90s, excavations on the site of the first Government House, where the Museum of Sydney currently sits close to the harbour, revealed more than 20 indigenous artefacts.
They included stone implements, items fashioned from glass and - like the material unearthed in Randwick - tools made from imported flint. It, too, had the same chemical signature as the hard rock from London.
For Beth Hise from Sydney Living Museums, which manages the site of old Government House, the research has helped to illuminate the ways that Aboriginal people engaged with the early colony.
"They suffered enormously from the presence of Europeans and the disruption to their culture and the dispossession of their land, but nevertheless they adapted to their new circumstances," she said. "They understood where they needed to make alliances."
She said the discovery helped inform a "new way of thinking about those early years of the colony".
"There isn't a clear divide between the Aboriginal history and the European history," she said. "There is a great deal of inter-connection between the two. Aboriginal people were navigating a landscape which was a patchwork of violence and animosity on one hand, and friendship and connection on another, and, of course, always resisting the invasion."
Aboriginal leaders complain that their ancestors were airbrushed from the history of the early colony in Sydney.
"We were resilient and adaptive to new technology that came with the colonisers," said Chris Ingrey, from the La Perouse Local Aboriginal Land Council.
"It wasn't just stone materials. It was metal and a lot of our Aboriginal families in coastal Sydney that engaged in the economy between 1790 all the way up to the late 1800s would use European boats to run fishing enterprises.
"Our old people would hunt with rifles instead of spears. They picked up the European technology quite quickly and used it to their own advantage."
But those days would eventually fade when authoritarian legislation was passed that further smothered freedoms for Aboriginal Australians.
"It wasn't until the Aboriginal Protection Board was introduced in New South Wales in 1883-84 that draconian laws and policies were introduced to control people's lives," Mr Ingrey said.
"Prior to that Aboriginal people lived sustainably running their own businesses and were engaged in the local economy."
Many more stories of Sydney's complex and rich colonial past remain hidden under its streets, offices and suburbs, but they are secrets that may never see the light of day.