Geoffrey Rush 'irreparably damaged', defamation case told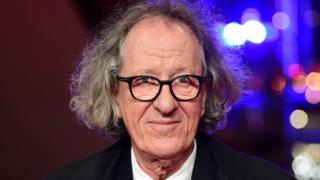 Actor Geoffrey Rush is "virtually housebound" and believes his career has been "irreparably damaged" following the publication of an allegation against him, his lawyers have said.
He is suing Sydney's Daily Telegraph for defamation over articles that said he was suspected of inappropriate behaviour towards a fellow performer.
Mr Rush, who denies the allegation, had since endured "tremendous emotional and social hardship", court documents said.
The newspaper has defended its reports.
The articles, published last year, alleged Mr Rush had been accused of behaving inappropriately during a Sydney Theatre Company production of King Lear in 2015. The allegation was not detailed.
The actor accused the newspaper of false and "spurious" claims when he filed a defamation lawsuit in December.
Mr Rush is one of Australia's most celebrated actors, having starred in films including Shine, Elizabeth and The King's Speech.
Standing 'damaged'
The newspaper's articles had caused "ongoing hurt" to the actor, according to documents tendered in the Federal Court of Australia on Monday.
This included him eating little food, having difficulty sleeping, and feeling anxious in public, his lawyers said.
The Oscar-winning actor now regarded his worth to the industry as "irreparably damaged", the documents said.
"The applicant has found that as a direct result of the publications he has been constantly associated in Australia and internationally with the #MeToo movement," they detailed.
The newspaper has argued that its articles were not defamatory, and that it reported no accusations of a sexual nature.
Last month, Justice Michael Wigney struck out substantial parts of the newspaper's defence of truth.
The newspaper has appealed against that decision.