Rugby Australia 'accepts' Folau's explanation in anti-gay row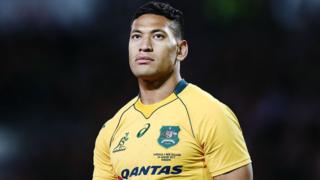 Rugby Australia says it accepts star player Israel Folau's statement that he did not mean to hurt people when he made an anti-gay comment.
The Wallabies player was widely criticised earlier this month when he suggested on Instagram that gay people would end up in hell.
It has sparked two weeks of discussion, including a pledge by Folau this week that he was willing to leave the sport.
However, Rugby Australia has said Folau will not be penalised for his views.
What caused the initial controversy?
The backlash began on 4 April when Folau, a devout Christian, was asked by an Instagram user: "What was god's plan for gay people?"
Folau replied: "Hell... unless they repent of their sins and turn to God."
The exchange drew condemnation and calls for Folau, Australia's most high-profile player, to be stood down from the Wallabies.
Rugby Australia said it did not support Folau's view, while major sponsor Qantas said his comments were "very disappointing".
Last year Folau was involved in a row with teammates after tweeting his opposition to same-sex marriage.
What has happened since?
Folau's Instagram post prompted much debate about whether he should be disciplined by Rugby Australia.
Australian media outlets also reported that key sponsors, including Qantas, considered withdrawing their support from the team.
On Monday, the player made his first response to the backlash, writing in an article that he had not intended to hurt "anyone".
Folau said that his faith was more important to him than his career.
He had even informed Rugby Australia in a formal meeting last week that he was prepared to leave the sport, Folau wrote on website Players' Voice.
"I told [Rugby Australia head Raelene Castle] if she felt the situation had become untenable - that I was hurting Rugby Australia, its sponsors and the Australian rugby community to such a degree that things couldn't be worked through - I would walk away from my contract, immediately," he wrote.
What has Rugby Australia said now?
Responding to Folau's article on Tuesday, Ms Castle confirmed that he would not face any sanctions.
"In his article, Israel clearly articulated his religious beliefs and why his faith is important to him and has provided context behind his social media comment," she said.
"In his own words, Israel said that he did not intend to upset people intentionally or bring hurt to the game. We accept Israel's position."
Folau, a former rugby league and Australian rules football player, is contracted with the Wallabies until the end of the year.
Rugby Australia has said it would like to him to remain with the team next year.