Australian toddler's alleged rape was a 'foreseeable risk'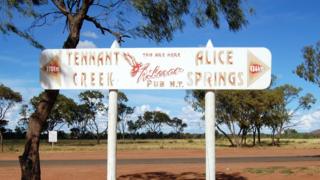 The alleged rape of a two-year-old girl in an Australian outback town was a "foreseeable" risk that authorities had failed to address, a report has found.
The case in Tennant Creek, in the Northern Territory (NT), drew national shock when it was reported in February.
Police later charged a 24-year-old man with sexual assault.
An official investigation, prompted by widespread outrage, has found evidence of "systemic failures" by police and child protection workers.
Authorities had investigated child abuse and neglect allegations involving the girl's family on several occasions over 16 years, said the report by NT Children's Commissioner Colleen Gwynne.
"This was not the only violence that [the girl] had been exposed to, and experienced, in her short life," Ms Gwynne wrote.
What is known about the allegation?
The girl was allegedly raped on 15 February at her home in Tennant Creek, about 1,000km (600 miles) south of Darwin.
She was then taken to a hospital in Alice Springs, before being flown to Adelaide for further treatment.
The report said the toddler had suffered "significant and painful" injuries that required surgery. While in hospital, she was found to have a sexually transmitted disease.
Her alleged attacker, who has not been identified, is still to face court proceedings.
What was the response?
The NT government announced an investigation in February after media reports of the case prompted public anger.
"It's unacceptable to see we have failed this child," acting territory leader Nicole Manison said at the time.
In April, the toddler and a sibling were removed from their mother's care.
What did the commissioner say?
After a month-long investigation, Ms Gwynne found: "It was foreseeable that C1 [the girl] was at risk of harm and that risk could have been managed or mitigated."
That risk included the possibility of sexual, physical and emotional abuse, the commissioner said in her report.
She noted that welfare staff had issued 52 protection notices for the girl and her siblings since 2002, providing "an abundance of evidence" of neglect and harm.
The child protection system had failed the family at "critical intervention points", she wrote.
The NT government said it would accept the commissioner's 14 recommendations.
What else has been debated?
The case has also put national focus on Tennant Creek, a town where residents experience high levels of unemployment and substance abuse.
Amid the scrutiny, federal and territory ministers, police and Aboriginal community leaders have discussed a rise in alcohol-fuelled crime in the area.
Last month, authorities expanded local restrictions on alcohol sales.
But some Aboriginal leaders said welfare agencies were failing indigenous residents - who comprise over half of the town - more broadly.
"The Department [of Territory Families] employees do not work in the interest of this community because they themselves are totally disconnected from Aboriginal families and the real issues they face," Ross Jakamarra Williams told the Australian Broadcasting Corp in February.