Barnaby Joyce: Australia scandal MP's 'TV payment' prompts anger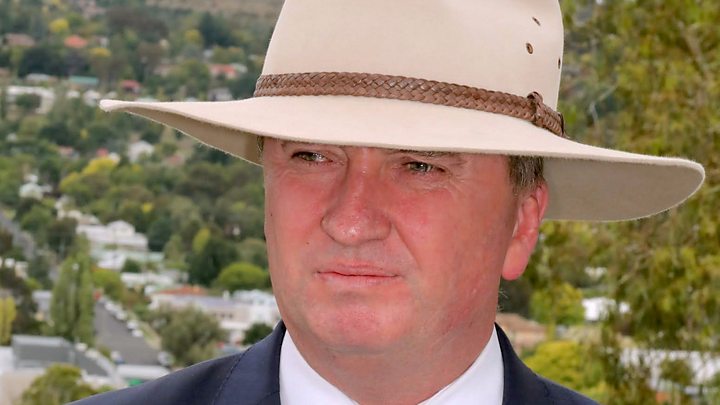 Former Australian Deputy PM Barnaby Joyce has drawn criticism for agreeing to a reportedly lucrative TV interview alongside his partner and baby son.
Mr Joyce quit his position in February after his relationship with Vikki Campion, an ex-staffer, raised scrutiny of his ministerial conduct.
At the time, he pleaded for the media to give his family privacy.
Mr Joyce has been now accused of hypocrisy, prompting a wider debate over payments for political interviews.
The outspoken parliamentarian is perhaps best-known for once threatening to kill Johnny Depp's dogs over a quarantine violation, and for briefly losing his job over his New Zealand dual citizenship last year.
What happened in February?
Revelations that Mr Joyce had had an extramarital affair with Ms Campion, now his partner, set off politically damaging questions that dominated national news.
He denied any ministerial wrongdoing. However, after more than two weeks of scrutiny, Mr Joyce stepped down to the backbench.
He asked for the media to "move on", and for the public to respect the privacy of Ms Campion, their child, as well as his former wife, Natalie Joyce, and their four children.
However, some commentators argued he had also sought publicity by giving an unpaid interview at his home shortly before his announcement.
Why the latest backlash?
At the weekend, The Australian newspaper reported that Mr Joyce and Ms Campion would be paid as much as A$150,000 ($85,000; $113,000) for a forthcoming interview with the Seven Network.
It prompted much criticism online. Among those voices was an independent senator, Derryn Hinch.
Mr Joyce has not publicly responded to the criticisms.
Sydney's Daily Telegraph reported that the couple planned to put the money in a trust fund for their six-week-old son. Mr Joyce is required to disclose any earnings on a parliamentary register.
His government colleagues have played down the interview's significance, with one saying it "ultimately isn't a matter for the government".
One minister, Bridget McKenzie, likened it to writing a memoir, adding: "What Barnaby Joyce and Vikki decide to do in their private life is their business."
Other observers raised wider concerns, including that it is rare for Australian politicians to be paid for interviews.
Commentator David Crowe wrote in the Sydney Morning Herald: "The only possible justification for the payment is that it compensates Campion, a private citizen who is under no obligation to share her thoughts.
"But that reasoning is unlikely to save Joyce from further mockery. He has infuriated his colleagues for months... and now looks like he is profiting from the mess."
However a media ethics expert, Dr John Harrison, told local website The New Daily that Mr Joyce may use the interview to portray himself as a family man.
"This is Joyce's reputation rehabilitation strategy at work. He's got a very good media adviser," he said.