Catholic Church joins sex abuse compensation scheme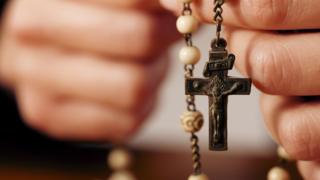 The Catholic Church has confirmed it will be part of a national redress scheme for victims of child sexual abuse in Australia.
The nation recently held a five-year inquiry into sexual abuse in the country's institutions.
Among harrowing stories, it heard that 7% of Australia's Catholic priests abused children between 1950 and 2010.
Governments and institutions have faced intense pressure to join a compensation programme for victims.
The Church said it was "keen to participate" in the scheme, to be co-ordinated by the Australian government.
"Survivors deserve justice and healing and many have bravely come forward to tell their stories," said Archbishop Mark Coleridge, president of the Australian Catholic Bishops Conference.
The Church is the first non-government organisation to join the scheme, which is scheduled to begin in July.
Prime Minister Malcolm Turnbull described the decision as a "significant development".
Mr Turnbull has previously said that survivors could receive payments of A$150,000 (£85,000; $110,000) each.
However, the exact scope of the compensation will be determined by how many governments and institutions opt in.
Hundreds of recommendations
The royal commission inquiry, which concluded in December, heard more than 8,000 testimonies about abuse in churches, schools and sports clubs.
The scope of the inquiry
2559
allegations referred to police since the inquiry began in 2013
230 prosecutions have commenced

41,770 calls received from members of the public

60,000 survivors may be eligible for compensation, estimates say
Getty Images
Religious ministers and school teachers were the most commonly reported perpetrators, the report said. The greatest number were in Catholic institutions.
"It is not a case of a few 'rotten apples'. Society's major institutions have seriously failed," it said in its final report.
The inquiry made more than 400 recommendations, including calling on the Catholic Church to overhaul its celibacy rules.
It also called on priests to face prosecution if they did not report sexual abuse disclosed to them during confession, a move the Church has strongly resisted.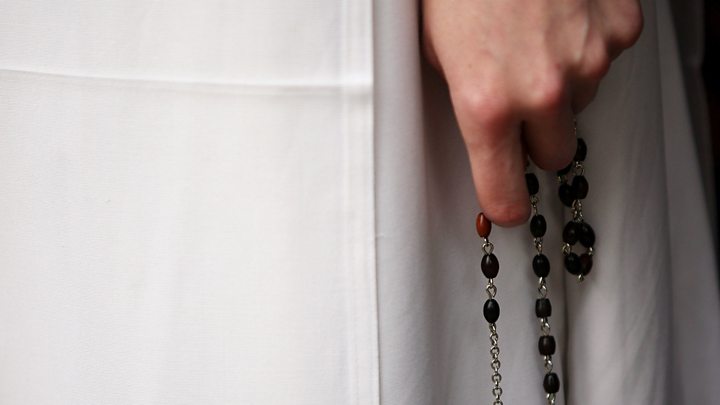 The governments of all Australia's states and territories, except for Western Australia, have signed up to the redress scheme.
Mr Turnbull has said he will deliver a national apology to victims later this year.