Cockatoo identified in 13th Century European book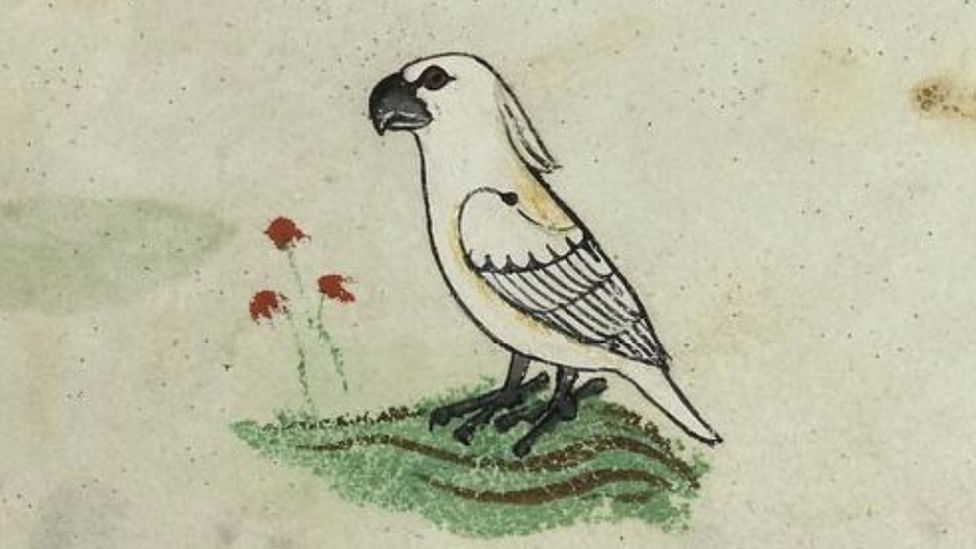 Researchers have discovered the oldest-known European illustrations of an Australasian cockatoo, in a manuscript from the 13th Century.
Four drawings of the white bird were found in a falconry book once owned by Holy Roman Emperor Frederick II. The book is now in the Vatican Library.
They pre-date other European depictions of cockatoos by 250 years.
Researchers say the images in the book, dated between 1241-1248, provide insight into medieval trade routes.
"The fact that a cockatoo reached Sicily during the 13th Century shows that merchants plying their trade to the north of Australia were part of a flourishing network that reached west to the Middle East and beyond," said co-author Dr Heather Dalton, from the University of Melbourne.
The bird was either a yellow-crested or a triton cockatoo, she said, meaning it most likely came from northern Australia, Papua New Guinea, or islands off Indonesia.
Dr Dalton and a team of Finnish scholars studied the Latin language book De Arte Venandi cum Avibus (The Art of Hunting with Birds).
It features more than 900 drawings of birds and animals that were kept by Frederick II at his palaces.
A description in Latin next to one drawing identifies the cockatoo as a gift from a sultan of the Ayyubid dynasty, which was centred in Egypt.
"Scholars, including me, were aware the sultan had given a white parrot to Frederick II, [but] few were aware there were surviving images of this bird," Dr Dalton said.
Dr Dalton said she believed that the cockatoo was taken from its original habitat to Sicily via Cairo in a journey lasting several years.
Previously, the oldest-known European depiction of a cockatoo was a 1496 artwork by Italian painter Andrea Mantegna.