Australian senator Leyonhjelm criticised for 'sexist slurs'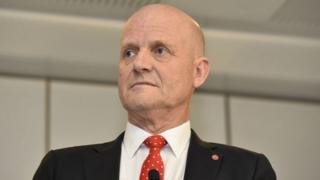 Australian Senator Sarah Hanson-Young has called on a political opponent to resign for making "offensive and sexist slurs" towards her.
Senator David Leyonhjelm made remarks about Ms Hanson-Young's private life in the Senate last week, and again in a television interview at the weekend.
His comments have been condemned by other MPs and the public.
Mr Leyonhjelm, from the minor Liberal Democrats party, has said he will not apologise.
Mr Leyonhjelm first made the comments on Thursday, during a debate on curbing violence against women, a topic of much discussion since the recent killing of comedian Eurydice Dixon.
Senators had been talking about whether restrictions on the importation of some weapons should be relaxed to help women protect themselves.
Mr Leyonhjelm told Ms Hanson-Young - who opposed the motion - in the Senate chamber that she should "stop shagging men".
She said he later swore at her in the Senate.
Mr Leyonhjelm made a similar comment on Australia's Sky News channel on Sunday.
Ms Hanson-Young responded by tweeting that she would not be "intimidated or bullied" and was "seeking legal advice".
"It is a sad reflection on society that even in 2018, attacks like these occur to women after they have spoken out about sexism, sexual harassment and abuse in their workplace and daily lives," said Ms Hanson-Young, a member of the minor Greens party.
On Sunday, Sky News apologised for airing Mr Leyonhjelm's comment and for repeating it in text on the screen. It added that an employee had been suspended.
Many social media users criticised Mr Leyonhjelm, a libertarian known for his provocative comments on various topics.
In defence of his comments, Mr Leyonhjelm accused Ms Hanson-Young of saying "words to the effect that all men are rapists". Ms Hanson-Young has strongly denied making any such statement.
Senator Leyonhjelm told Fairfax Media: "It would be easier [to apologise] but it would be insincere, wouldn't it, because I don't think I have anything to apologise for.
"Insincere apologies seem to be all the rage at the moment and I'm not in for it."
Foreign Minister Julie Bishop told reporters: "The comments were highly disrespectful and we need more respect in public life, not less."