House break-in kangaroo escapes from shelter in Australia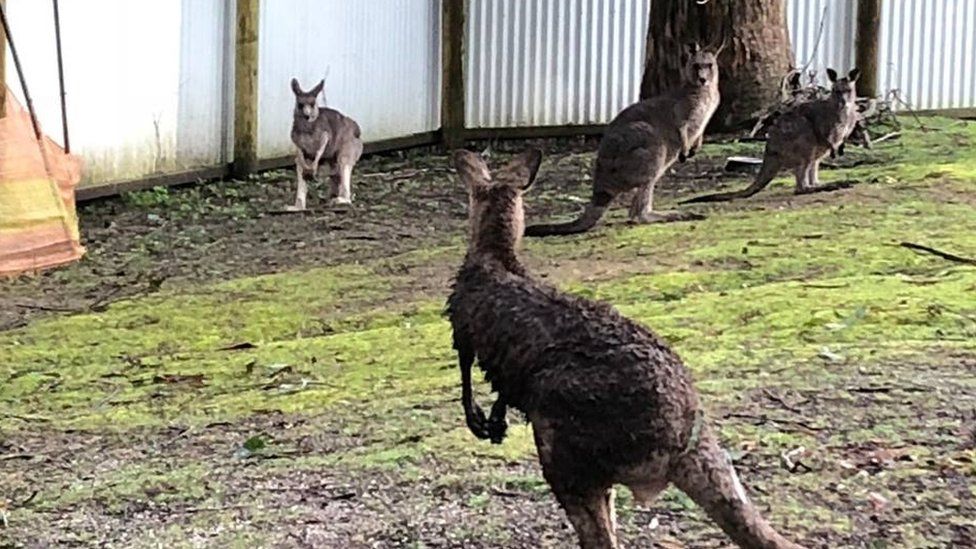 A kangaroo that smashed its way into an Australian home at the weekend - prompting its rescue - has escaped from a wildlife shelter, staff say.
The marsupial managed to leap over a fence on Tuesday, escaping into a forest in central Victoria.
Staff said it was the first time a kangaroo had cleared the 2.2m (7ft 2in) fence.
Rescuer Manfred Zabinskas said his partner had witnessed the 30kg (65lb) animal's escape during a morning feeding session.
"[The kangaroo] was hopping around and getting more and more upset, and at first he just rushed past her and hit the wall," Mr Zabinskas told the BBC.
"But then he did another lap. He took one flying leap and absolutely cleared it on the full, not even touching the enclosure."
Neither rescuer had anticipated that the "highly strung" animal may attempt to flee the large enclosure, which currently held three other kangaroos.
"It's such a shame, but he wasn't going to do well in care being all upset and running into walls," Mr Zabinskas said.
The enclosure is located in central Victoria, about 60km (37 miles) from where the kangaroo was first rescued on the outskirts of Melbourne.
He predicted the animal would most likely remain in central Victoria, and join local kangaroo populations.
In Melbourne, suburban sprawl has encroached on kangaroo habitats.
Mr Zabinskas said he had nicknamed the kangaroo "Norman Bates" after the antagonist in the 1960 film Psycho, because of how much blood it had left at the house in Melbourne.
About 45 million kangaroos live across Australia, and it is not uncommon for them to be found near populated areas that contain bushland.