China blocks access to Australian Broadcasting Corp sites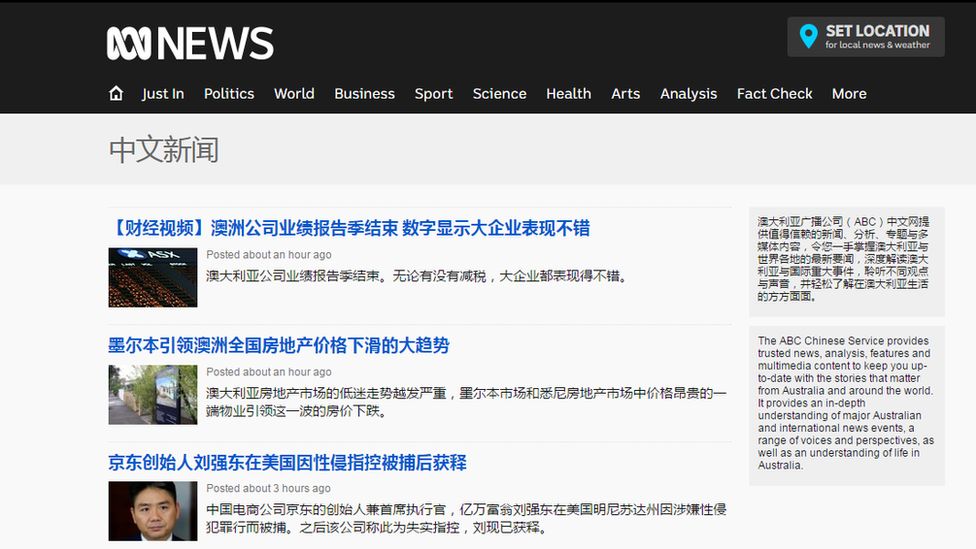 China has blocked access to the website of Australia's national broadcaster, the Australian Broadcasting Corp (ABC).
The ABC said users in China were "abruptly" blocked from visiting its site and apps two weeks ago.
Chinese regulators told the ABC the site had breached the country's laws, but did not specify any violations.
China operates a strict internet censorship regime and often blocks access to foreign sites if they publish content it does not want people to see.
The BBC News and the New York Times websites are also unavailable in China at present.
The ABC's China-based journalists said they had confirmed the site had been blocked, after making several enquiries about its status.
The broadcaster said it had not been able to confirm the reason for the ban.
An official at the Office of the Central Cyberspace Affairs Commission told the journalists: "China's internet is fully open. We welcome internet enterprises from all over the world to provide good information to the netizens of China.
"However, state cyber sovereignty rights shall be maintained towards some overseas websites violating China's laws and regulations, spreading rumours, pornographic information, gambling, violent terrorism and some other illegal harmful information which will endanger state security and damage national pride."
Prime Minister Scott Morrison said the ban was an issue for China.
"China's a sovereign country, they make decisions about what happens there, we make decisions about what happens here," he told radio station 3AW.
The ABC launched a Chinese-language version of its news site last year.
ABC previously criticised
The latest move comes amid a period of diplomatic tensions between the two nations over reports of China's alleged interference in Australian politics and society. This had led to Canberra enacting new laws aimed at preventing foreign interference.
"Those reports, which were made up out of thin air and filled with Cold War mentality and ideological bias, reflected a typical anti-China hysteria and paranoi[a]," the embassy said.