Inskip Point: Section of Australian beach collapses into sea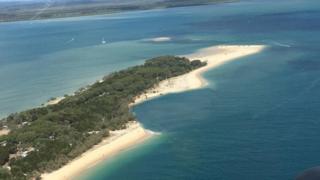 A large section of an Australian beach has fallen suddenly into the ocean due to erosion, according to authorities.
The landslip, up to 300m (1,000 feet) wide, took place at Inskip Point in Queensland on Sunday or Monday, state officials said.
It is the third incident of its kind in the area in recent years. In 2015, one swallowed a caravan, tents and a car.
Officials said no campers or property had been affected by the latest event. They urged people to avoid the area.
"It's likely this erosion has been caused by the undermining of part of the shoreline by tidal flow, waves and currents," Queensland's Department of Environment and Science said in a statement.
Helicopter pilot Glen Cruickshank said he saw the change while flying over the popular sand peninsula, about 250km (155 miles) north of Brisbane, on Monday.
"It is far bigger than the last two - it's a right big chunk that's just been sucked down," he told the BBC.
Officials described it as "near-shore landslip". Sinkholes, by contrast, emerge from dissolving rock.
Previous incidents
In 2015, about 140 people were evacuated after a 200m-wide landslip claimed part of a campground nearby. No-one was injured.
After that incident, Queensland reviewed the stability of the peninsula and set up exclusion zones around areas deemed to be at risk of erosion.
A smaller landslip hit the peninsula in 2016.
Geologist Peter Davies, from the University of the Sunshine Coast, said landslips would "almost certainly happen again".
"All we can say with any certainty is that it's an inherent unstable area and will do this periodically," he told the Australian Broadcasting Corporation on Monday.