Australia drought: How much rain would end 'the big dry'?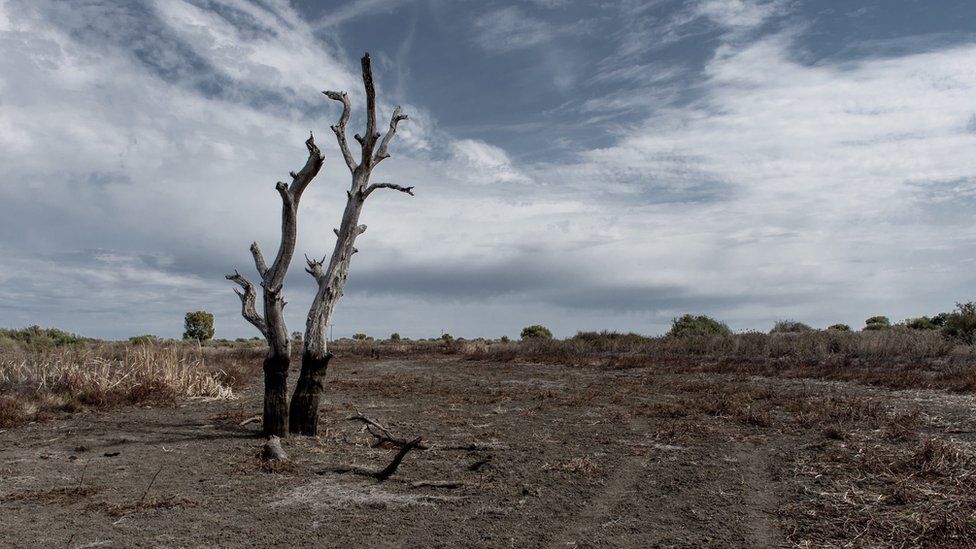 Many drought-stricken regions in Australia have finally received much-needed rain in recent days.
But while the drenching has provided some relief, forecasters say it is nowhere near enough.
Farming regions in NSW and Queensland have been bone dry for months - years in some cases - meaning there is no quick fix to end the drought. So what would it take?
First, it depends on how you define drought
Australia's Bureau of Meteorology (BOM) measures it in terms of "rainfall deficiency" - a period when precipitation is deemed to be below average.
This year, rainfall levels in NSW are among the lowest ever recorded over an extended period. In some areas, the state is the driest it has ever been.
For the drought to end, some regions would need 200-300mm (8-12 inches) spread over at least three months, said BOM meteorologist Dr Simon Grainger.
That is more than the entire amount - 191mm - that the state has averaged since January.
So what has this month produced? Dr Grainger says some areas have had 25-50mm, but others have missed out entirely.
"A single rain event is not itself enough to break the drought. You need sustained rainfall over months," he told the BBC.
Unfortunately for farmers, the immediate odds are not good. There is only a 25% chance of sufficient "above average" rainfall in the coming months, forecasters say.
Because it is governments, not meteorologists, which officially declare droughts. They consider other factors, such as the health of the agricultural industry.
"Even when it rains, we're getting such warm days that the water just gets sucked right out - the plants are just dying," Lynette Rideout-Kenneally, an orchard owner, told the BBC in August.
Key farming indicators - such as soil moisture, pond levels and pasture health - have been "significantly depleted" in the past year, according to climate scientist Dr Benjamin Henley from the University of Melbourne.
Those indicators need at least several months of "well-above average rainfall" to recover, he said, adding that one big downpour would not be enough.
"Much of what falls will be lost to evaporation if there's no follow-up rain," Dr Henley told the BBC.
Even when the drought ends, farmers could face lasting challenges.
"Their pastures are dead, the crops haven't been planted, and those who have sold or destroyed livestock will need to restock again which is an expensive process," said Dr Michael Robertson, deputy director of agriculture at the Commonwealth Scientific and Industrial Research Organisation.
That could take years, he said, with farmers hindered by debt and "psychological battle wounds".
"There's always the worry that another drought is just around the corner, or the current one hasn't broken. That concern makes people cautious and limits their risk-taking and ability to make money," Dr Robertson said.
"Essentially, droughts don't just stop because the rain comes."