Australia considers following US on Jerusalem embassy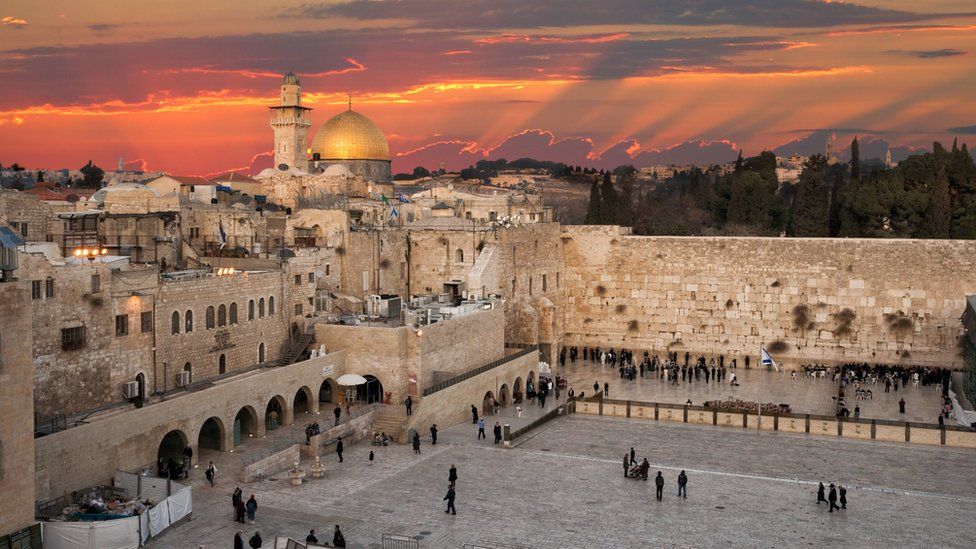 Australia will consider recognising Jerusalem as Israel's capital and moving its embassy there from Tel Aviv, Prime Minister Scott Morrison says.
If acted upon, the move would follow a recent policy shift by the US that has drawn criticism internationally.
Mr Morrison said Australia remained committed to a two-state solution to the Israeli-Palestinian conflict.
Political opponents said Mr Morrison's comments were a "deceitful" ploy for votes ahead of a crucial by-election.
The status of Jerusalem is one of the most contested issues between Israel and the Palestinians.
Mr Morrison said he would consult with his cabinet and other nations before making any decisions.
"We are committed to a two-state solution, but frankly, it hasn't been going that well - not a lot of progress has been made," he told reporters on Tuesday.
He said it may be possible for his nation to support a two-state solution and recognise Jerusalem as Israel's capital - something that Australia had "to date assumed" was unfeasible.
The prime minister said one future scenario could involve Australia recognising a Palestinian Authority capital in East Jerusalem and Israeli capital in West Jerusalem.
"Australia should be open-minded to this," Mr Morrison said.
Israeli Prime Minister Benjamin Netanyahu tweeted his approval on Monday.
I spoke today with Australian PM @ScottMorrisonMP. He informed me that he is considering officially recognizing Jerusalem as the capital of Israel & moving the Australian embassy to Jerusalem. I'm very thankful to him for this. We will continue to strengthen ties between 🇮🇱 & 🇦🇺!

— Benjamin Netanyahu (@netanyahu) October 15, 2018
"They are risking Australia's trade and business relationship with the rest of the world, in particular [the] Arab and Muslim world," said Palestinian Foreign Minister Riyad al-Maliki.
He was speaking in Jakarta after talks with officials in Indonesia, the world's most populous Muslim-majority country. Australia and Indonesia are due to sign a trade deal this year.
Mr Morrison's predecessor, Malcolm Turnbull, had ruled out following the US in moving Australia's embassy to Jerusalem.
On Tuesday, Mr Morrison said his thinking had been guided by Australia's former ambassador to Israel, Dave Sharma.
Mr Sharma is the government's candidate in a by-election, to be held on Saturday, for the seat vacated by Mr Turnbull after he was ousted as prime minister.
If Mr Morrison fails to retain the Sydney electorate, Wentworth, he will be forced into minority government. He denied that his comments on Tuesday were aimed at Wentworth's large Jewish community.
But the Labor opposition's Senate leader, Penny Wong, said Mr Morrison was playing "dangerous and deceitful word games with Australian foreign policy".
"[Scott Morrison] is prepared to say anything if he thinks it will win him a few more votes - even at the cost of Australia's national interest," she said.
Why is the status of Jerusalem so contentious?
The status of Jerusalem goes to the heart of the Israeli-Palestinian conflict.
Israel regards Jerusalem as its "eternal and undivided" capital, while the Palestinians claim East Jerusalem - occupied by Israel in the 1967 Middle East war - as the capital of a future state.
Israeli sovereignty over Jerusalem has never been recognised internationally, and according to the 1993 Israel-Palestinian peace accords, the final status of Jerusalem is meant to be discussed in the latter stages of peace talks.
Since 1967, Israel has built a dozen settlements, home to about 200,000 Jews, in East Jerusalem. These are considered illegal under international law, though Israel disputes this.
In December 2017, UN member states voted decisively at the General Assembly in favour of a resolution effectively declaring US recognition of Jerusalem as Israel's capital to be "null and void" and demanding it be cancelled.