Cricket Australia 'partly to blame' in ball-tampering scandal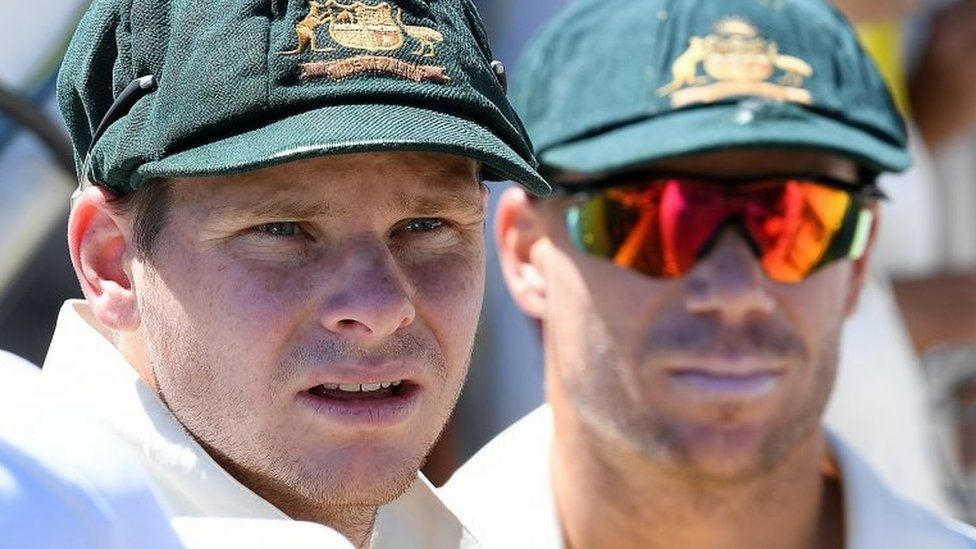 A scathing review into Australian cricket has condemned a "winning without counting the costs" culture that left players in a "gilded bubble".
The review found that CA was partly to blame, and viewed more widely as "arrogant and controlling".
The governing body said it would accept most of the report's recommendations.
The ball-tampering incident shocked Australia and led to 12-month suspensions for team leaders Steve Smith and David Warner, and a nine-month ban for batsman Cameron Bancroft.
It also hastened the departures of coach Darren Lehmann and CA chief executive James Sutherland.
"Responsibility for that larger picture lies with CA and not just the players held directly responsible for the appalling incidents at Newlands [in South Africa]," said the report released on Monday.
The report may fuel calls for the three players' suspensions to be reduced, Australian media reported.
The 145-page review was conducted by not-for-profit organisation The Ethics Centre. Its other findings included:
that players were frequently pushed to "play the mongrel", often against their nature,
they operated in a bubble "disconnected, for much of each year, from families, friends and the grounding influence of community",
CA reverted "to bully tactics or worse, ostracising" when situations went "against them", according to one unnamed insider.
Among 42 recommendations, the review proposed setting up a new ethics committee and selecting players based on character in addition to ability.
CA said it would accept 34 recommendations and consider seven more. It had rejected one proposal that would excuse players from taking part in T20 cricket.
"We are very committed to moving the game forward and using this review as a platform to do that," chairman David Peever said.
However, he also described it as "at times difficult to read and in some instances, difficult to agree with".
Tim Paine, who succeeded Smith as Test captain, said the players had adjusted their priorities.
"I think, potentially for a little bit, we got a little bit wrapped up in our own self-importance," he said.