Queensland fatal shark attack: Third incident in tourist spot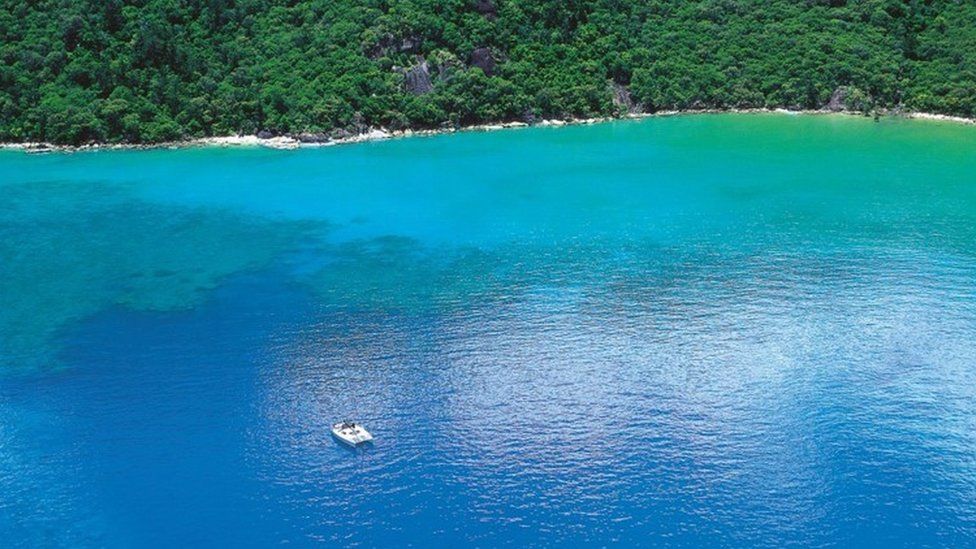 An Australian man has died after being attacked by a shark at a popular tourist spot in Queensland.
The location - Cid Harbour in the Whitsunday Islands - was also the scene of two non-fatal shark attacks in September.
Police said the latest victim, 33, had been swimming with friends when the attack happened on Monday.
He was pulled from the water with leg and arm injuries and later died in hospital, authorities said.
"He had suffered very serious bites, significant blood loss as well as cardiac arrest," said Ben McCauley from Central Queensland Rescue.
In September, a 12-year-old girl and a 46-year-old woman were mauled in separate attacks at Cid Harbour within a 24-hour period. The girl later had a leg amputated.
Why has this spot seen three attacks?
There is insufficient evidence to explain it, say shark researchers.
Prof Colin Simpfendorfer, from James Cook University, said shark attacks were "extremely rare" in the Whitsundays - an area popular for sailing and water activities.
He said sharks could be drawn by fishing activity or dirty water, but no theories had "so far been supported by real substantial information".
Prof Simpfendorfer noted, however, that it was not unusual to see "clusters" of attacks in one area.
"We see this pattern time and time again - all around the world - and we don't really understand why it is," he said.
"There's just a period of time when conditions are such that it maybe causes attacks to be more frequent."
He also noted that contrary to popular assumptions, sharks typically avoided places with lots of swimmers.
Can attacks be prevented?
Authorities responded to the incidents in September by culling six sharks in the area and installing drum lines - baited hooks suspended underwater - for a week.
Now, some have called for further action - but it is a contentious debate.
A local lawmarker, Jason Costigan, has described the absence of permanent drum lines as "madness".
But Prof Simpfendorfer said it was debatable whether drum lines and nets were effective in stopping attacks. Such measures also harmed other marine life, he added.
"There will always be sharks in these sorts of spaces, so the important thing is for people to educate themselves on how to minimise the risk," he said.
He noted that the latest attack had taken place at dusk, a period known to be more dangerous because sharks can be more active.