2019 Australia election: 10 things to know about the poll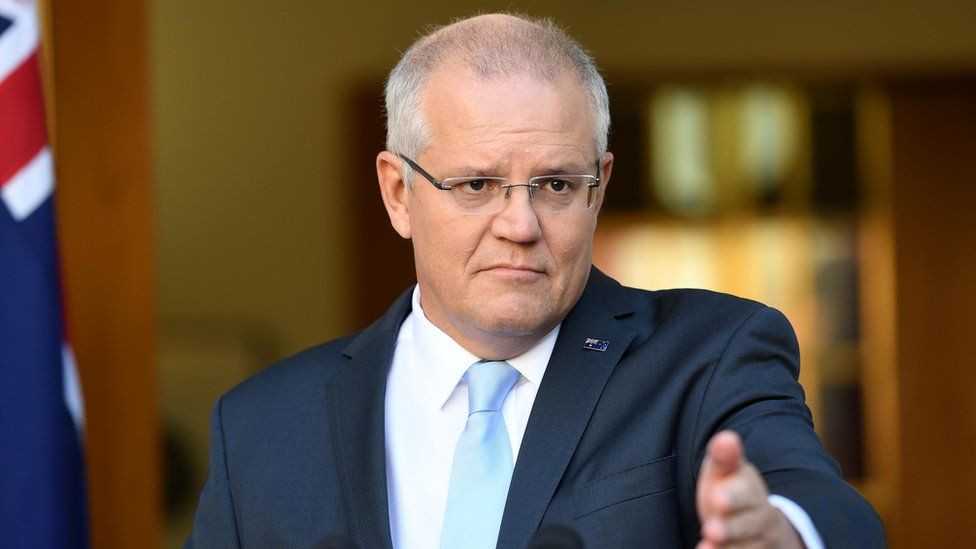 Australians are voting in a closely-fought general election on Saturday.
The poll will decide whether the conservative Liberal-National Coalition wins a third term or is replaced by a Labor administration led by Bill Shorten.
All 151 seats in the House of Representatives will be contested, and half of the 76 seats in the Senate.
The election has been hotly contested in several areas, particularly climate change and the economy.
Prime Minister Scott Morrison told voters in his last pitch on Thursday: "Now is the time to get on and keep on with the work of building our economy, by backing in the choices Australians are wanting to make every day."
Meanwhile, Mr Shorten highlighted climate change and urged voters to push for change.
"Vote for the new vision - the new stability, the new determination of a new Labor Government."
Here are some key things to know about the vote.
1. Voting in the election is compulsory
Unlike many other global democracies, Australia has mandatory voting for people aged 18 and over - or they risk a fine.
This year has seen a record 96.8% enrolment rate. In contrast, the most recent recent US and UK elections drew an estimated 55% and 69% respectively.
Advocates say the mandatory system depolarises the vote and reduces the influence of lobby groups, though critics dispute this.
Voting has also been open for three weeks already. More than four million people, about a quarter of voters, have already cast their ballot at "pre-polling" booths.
2. Leadership 'madness' may haunt the government
Mr Morrison only became prime minister last August, after bitter party infighting ousted his predecessor, Malcolm Turnbull.
In doing so, Mr Morrison became Australia's fifth leader since 2013.
It's likely to harm the government's standing with voters, predicts Prof Sally Young, a politics expert from the University of Melbourne.
"They're sick of the sniping and undermining," she says. "Knifing a leader - it never goes down well."
3. Climate change is a hot issue
Australia has just endured a year of extreme weather events, including destructive floods, bushfires, cyclones and a severe drought. The past summer was the nation's hottest on record.
It has made climate change a key election issue in some seats, experts say.
"Australia's lack of action [on climate change] internationally is becoming more recognised within this country," says Prof Young.
The University of Sydney's Prof Marc Stears agrees, but says it's unclear how widely it will affect voting decisions.
4. In many ways, the main battle lines are familiar
The major parties have been talking up their traditional strengths. That's subjects like jobs and tax relief for the government, and health and education for Labor.
They will compete fiercely on economic issues, with both parties promising policies aimed at reducing the cost of living,
Although Australia's economy is the envy of many countries, wages growth is flat, and there is a generational split in attitudes to house prices.
5. It's all about the north-south divide
Mr Morrison is overseeing a minority government, meaning he can ill afford to lose support anywhere in the country.
Political observers say he faces challenges from the left and right - a debate that is often framed in geographical terms.
In the northern state of Queensland, experts say the government fears losing votes to more socially conservative minor parties and independents.
But in Victoria in the south, the electorate is perceived as more progressive. It delivered a resounding victory to Labor in a state election five months ago.
6. The migration debate is absent
During past elections, Australia's major parties have employed tough rhetoric on immigration issues - particularly regarding asylum seekers.
It has often been used to appear strong on issues such as national security, says Prof Stears.
7. There are signs of support for minor parties
Prof Young says there is some public cynicism about the major parties, pointing to possible increases in support for other candidates.
High-profile independent candidates have entered key races, and in New South Wales, a recent state election saw rises in minor party support in rural electorates.
8. Is there a risk of foreign interference?
Authorities said there was no evidence of electoral interference, but security experts have urged vigilance.
9. Citizenship checks should be water-tight
In 2017, several MPs were disqualified for unintentionally breaking a rule that lawmakers cannot be dual citizens when elected.
Fifteen parliamentarians were ousted, though six later managed to return after relinquishing their non-Australian citizenships.
The saga sparked comprehensive checks of MPs' statuses.
10. What do the opinion polls say?
Opinion polls have narrowed in recent weeks, but Labor still has the edge on a two-party preferred basis.
However, those measures also say that Mr Morrison leads Mr Shorten as preferred prime minister.