Train derailment: Driver and co-pilot killed in Sydney-Melbourne route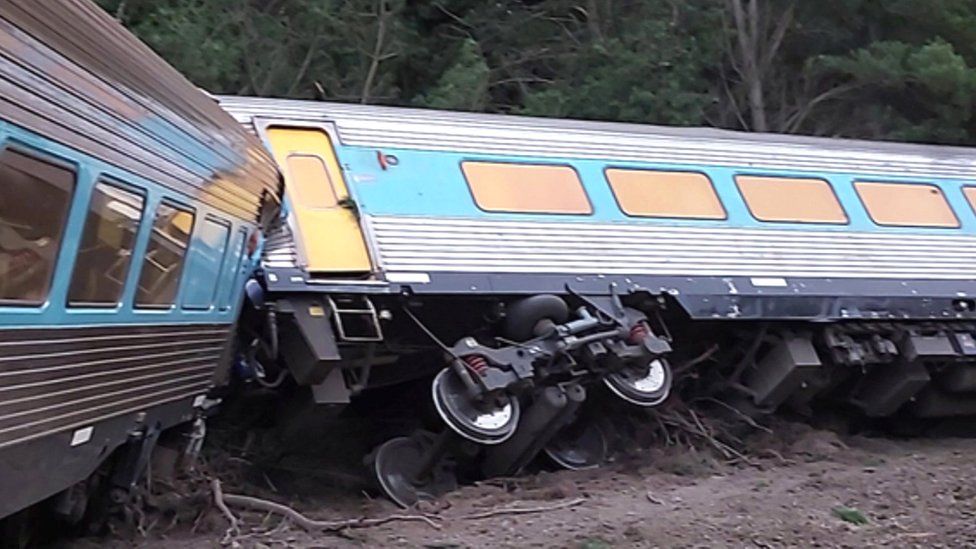 Two people were killed when a train carrying 153 passengers between Sydney and Melbourne derailed, officials say.
The crash occurred near Wallan, a town north of Melbourne on Thursday night.
Police said the male driver 54, and his female co-pilot, 49, died in the crash while 11 others had minor injuries.
An investigation is underway into the cause of the crash, which police say is unknown. Concerns have been raised about the condition of the track at the time of the accident.
Five carriages as well as the locomotive had come off the tracks, officials said. Pictures showed twisted carriages, with one on its side.
It was "very lucky" that more people were not killed or injured, police told reporters on Friday.
"It is a tragedy that unfortunately the pilot and the driver were killed in the incident, but I am amazed that there weren't more passengers at least injured or worse than what they were," said Insp. Peter Koger.
The train left the tracks at about 19:50 local time on Thursday (08:50 GMT), about 45km (28 miles) north of Melbourne, the state capital of Victoria.
Passengers told Australian media they were thrown around the carriage for a minute as the train derailed.
"People were tossing around … there was some screaming - everyone was just grasping on, some in the brace position, preparing for the possibility of something worse."
Earlier in the journey, the driver had also announced to passengers that he would try to make up time for earlier delays, passengers reported.
The train is the main long-distance service between Sydney and Melbourne, and runs along tracks operated by the federal government.
Deputy Prime Minister Michael McCormack defended the track's condition on Friday.
"No authority in Australia would allow a train to travel on an unsafe track. That just wouldn't happen," he said.
Victoria's rail union has said its drivers had previously refused to drive along the track.
A "full and thorough investigation" would be carried out by the Australian Transport Safety Bureau and the rail safety regulator, said Mr McCormack.
"Our hearts and thoughts go out to the families of those who have lost their lives," he said.
Train services along the affected line will be suspended until the investigation is concluded.