Quaden Bayles: Fundraiser for boy in bullying video hits $300,000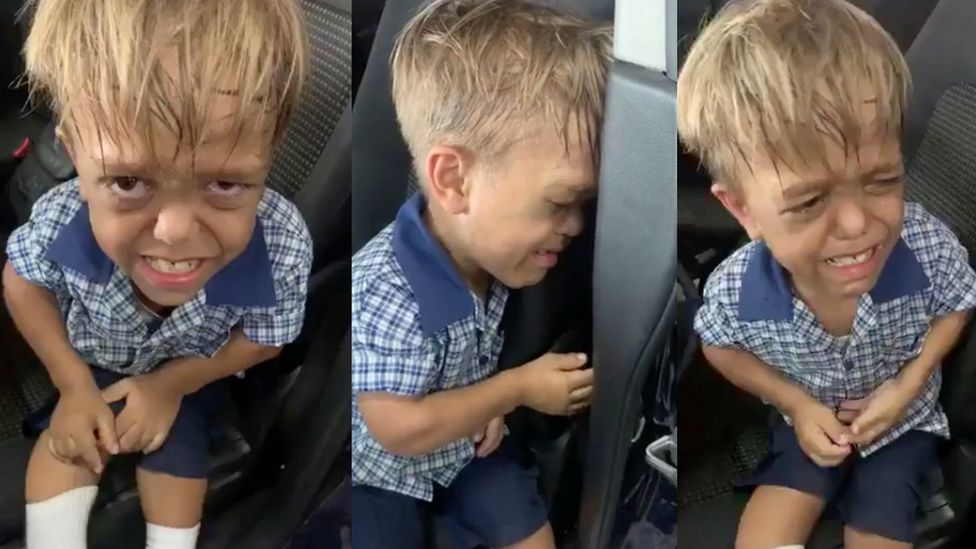 Some A$452,000 ($300,000; £230,000) has been raised as part of a campaign to send a nine-year-old Australian boy to Disneyland after a video of his deep distress over being bullied went viral.
Yarraka Bayles posted the clip of her son, Quaden, crying after he was targeted at school for his dwarfism.
"This is what bullying does," she says in the video, in which her son also says he wants to end his life.
Now a GoFundMe page has raised 30 times more than its $10,000 target.
The page was set up by US comedian Brad Williams after the video went viral to raise money to send Quaden to Disneyland.
The National Rugby League's Indigenous All Stars team have also invited Quaden to lead out the side for their match against the Maori All Stars on Saturday.
Celebrities including actor Hugh Jackman and basketball player Enes Kanter have also spoken out, while parents in other countries have shared video messages from their children.
Jackman told Quaden "you are stronger than you know, mate" and called on everyone to "be kind".
The BBC is not responsible for the content of external sites.
Skip twitter post by Hugh Jackman
Allow Twitter content?
This article contains content provided by Twitter. We ask for your permission before anything is loaded, as they may be using cookies and other technologies. You may want to read Twitter's cookie policy, external and privacy policy, external before accepting. To view this content choose 'accept and continue'.
The BBC is not responsible for the content of external sites.
End of twitter post by Hugh Jackman
Speaking at a press conference, Ms Bayles said she hoped her son's experience was raising awareness over the effects of bullying.
"We are losing way too many people because of bullying, because of discrimination, because of racism. There's so many factors of bullying," she said.
"It's every parent's worst nightmare losing their babies and for me that's my reality every day," she said, adding that suicide attempts "are very real".
"On top of that, being an Aboriginal boy with a disability, people don't understand that's a double-edged sword. There's racism and then there's discrimination because of the disability."
What happens in the video of Quaden?
In the confronting six-minute video, posted on Tuesday, Quaden's mother describes the relentless bullying experienced by her son every day. The family, who are Aboriginal Australian, live in Queensland.
"I've just picked my son up from school, witnessed a bullying episode, rang the principal, and I want people to know - parents, educators, teachers - this is the effect that bullying has," Ms Bayle says as her son sobs.
"Every single... day, something happens. Another episode, another bullying, another taunt, another name-calling.
"Can you please educate your children, your families, your friends?"
'People think it's okay to laugh and stare'
Gillian Martin, chairwoman of the UK charity Restricted Growth Association (RGA), says there is a long way to go in changing perceptions of dwarfism.
"This story, I'm delighted it's got out… but there is a much deeper issue here surrounding the specific bullying and prejudice around dwarfism because we, as a society, culturally and globally, are conditioned to find dwarfism amusing," she told the BBC's OS programme.
"We are conditioned to… objectify that person as inhuman, as a person of comedy."
US-based motivational speaker Becky Curran Kekula, who also lives with dwarfism, believes it is one of the last conditions people think is acceptable to laugh at and stare.
"A lot has to do with low numbers, since there are only 30,000 little people in the United States alone," she says.
"People have not seen a little person in their everyday life, so a lot of portrayals in the media affect how we're treated in society."
Actor Warwick Davis, who co-founded Little People UK, said the video of Quaden was "deeply upsetting to watch".
"It's really sad to think that this sort of thing goes on in today's world. We like to think of ourselves as being a caring, passionate species when, in fact, at the heart of it, we're really not sometimes," he told the BBC.
"I think parents have a role to play here. Education starts at home and as parents we should all be taking responsibility for our children and for their attitudes in the world," he said.