Australia partner visas: Immigration law 'to require English test'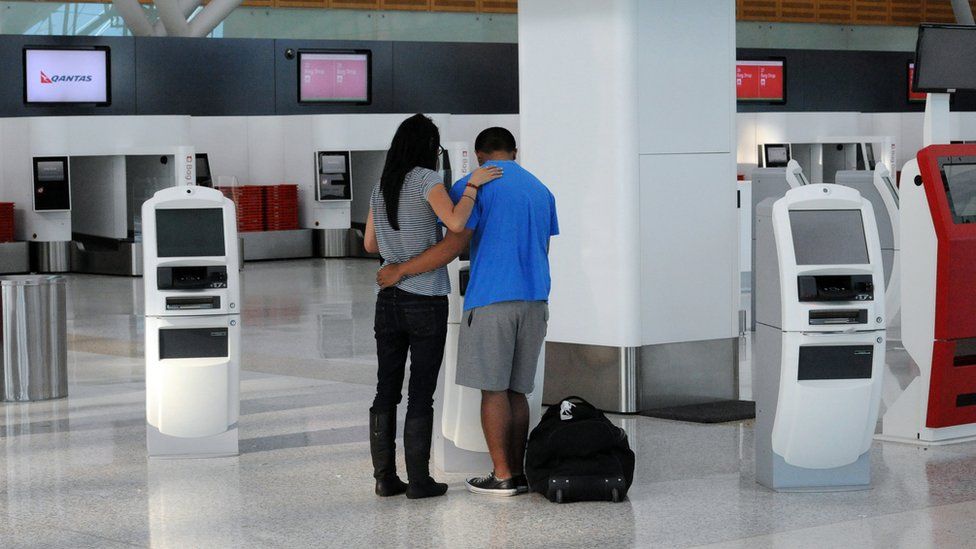 Australia will require foreign partners of existing residents to pass an English language test before gaining a permanent visa, its government says.
The controversial immigration requirement, if approved by parliament, would apply from mid-2021.
It would also force the partners of applicants to prove a level of English proficiency.
Critics have called the change "discriminatory", but the government says it will build "social cohesion".
"We will require an applicant and a sponsor to have met functional level English or to have at least made reasonable efforts to learn English," Immigration Minister Alan Tudge said.
In recent years, Australia's conservative government has called for prospective migrants to face mandatory, rigorous testing on their English language skills.
English proficiency is currently a requirement for some other work and study visas. Anyone applying for Australian citizenship must also pass an English test.
More than one-fifth of Australia's population speaks a language other than English at home, with the figure above 35% in the largest cities of Sydney and Melbourne.
Why has the government announced this?
Mr Tudge said there were about one million people living in Australia with poor or no English skills, which he argued limited their work and social skills.
He said the new changes would also help protect vulnerable immigrants from controlling partners.
"In some cases, the husband will not want his partner or wife to learn English. And in part that's for control reasons," he said.
He said "reasonable efforts to learn" would constitute an applicant taking about 500 hours of English classes which would be available under a free government programme.
Prime Minister Scott Morrison said partners could still arrive on a temporary visa, but once in the country they should learn "Australia's first language" to remain permanently.
What's been the reaction?
Some critics say the requirement is "racist", arguing it targets people from non-Western nations and their partners.
They pointed to language tests used in the infamous "White Australia" policy which effectively prevented non-European immigration to the country from 1901 until the late 1960s.
The Labor opposition said the changes "take us back to the 1950s".
"English proficiency isn't a test of someone's love," said Andrew Giles, shadow minister for multicultural affairs.
Couples facing the partner application process have told local media the requirement is an "additional burden" to the existing tests.
Currently there is a two-year waiting period for permanent partner visas, and applications start from A$7,715 (£4,260; $5,500).
About 40,000 visas were granted in 2017-2018 according to the most recent figures, and there were double that number in pending applications.
According to the 2016 census, more than 300 languages are spoken in Australia.
This year, Australia is forecast to see its first drop in net overseas migration since World World Two due to the coronavirus pandemic.