Australia demands China apologise for posting 'repugnant' fake image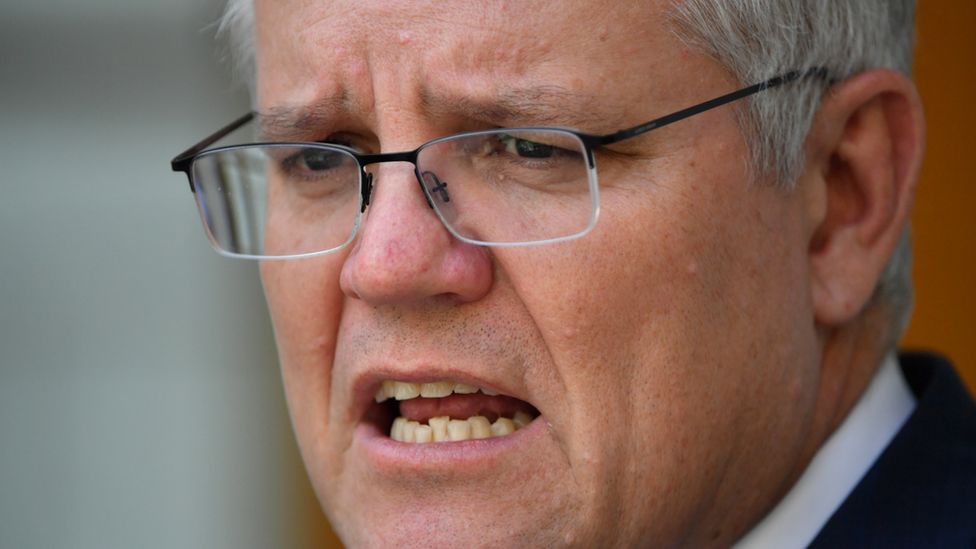 Australia has demanded China apologise for posting a fake picture on a government Twitter account that depicted an Australian soldier murdering an Afghan child.
Prime Minister Scott Morrison said Beijing should be "utterly ashamed" for sharing the "repugnant" image.
It comes amid escalating political tensions between the two countries.
The image referred to alleged war crimes by Australian soldiers - murders of Afghan civilians and prisoners.
Warning: This story contains an image some people might find distressing.
Earlier this month, a report found "credible information" that 25 Australian soldiers were involved in the murders of 39 Afghan civilians and prisoners between 2009 and 2013.
The findings from the Australian Defence Force (ADF) inquiry sparked widespread condemnation, and are now being investigated by police.
What exactly did China put online?
On Monday, Chinese foreign ministry spokesman Lijian Zhao posted a fabricated image which portrayed an Australian soldier with a bloody knife next to a child. The child is seen holding a lamb.
The image appears to be a reference to previously reported allegations that elite Australian soldiers used knives to murder two 14-year-old Afghan boys. The Australian Broadcasting Corporation reported the ADF report did not substantiate those allegations.
However it did find "credible evidence" of unlawful killings and a "warrior culture" within elite units. The allegations included that junior soldiers were encouraged to shoot prisoners for their first kill.
Mr Zhao's tweet said: "Shocked by murder of Afghan civilians & prisoners by Australian soldiers. We strongly condemn such acts, and call for holding them accountable."
How did Australia respond?
Australia has requested Twitter remove the post from its platform, describing it as "disinformation". Mr Morrison described the post as "truly repugnant, deeply offensive, utterly outrageous".
"The Chinese government should be totally ashamed of this post. It diminishes them in the world's eyes," he said. "It is a false image and terrible slur on our defence forces."
He added that Australia had established a transparent process to investigate the alleged war crimes, as was expected of a "democratic, liberal" country.
Mr Morrison went on to acknowledge that there are "undoubtedly" tensions between the two nations, but said: "This is not how you deal with it."
He warned Beijing that other countries around the world were watching its actions towards Australia.
This is a new low in an already very tense relationship between the two key trading partners. Last week, Mr Zhao said the war crimes' report "fully exposed the hypocrisy of the human rights and freedom these Western countries are always chanting".
But his tweet shocked Scott Morrison into his most undiplomatic language yet.
It's another indication of how bad things have become between Canberra and Beijing. The Australian prime minister acknowledged that the two countries have had their problems but this tweet, he said, had gone too far.
This comes at a very sensitive time for Australia. The country and its military are reeling from the findings of the war crimes inquiry - 19 Special Air Service (SAS) troops could face prosecution for the murders.
For China to use this against Australia is one thing, but a senior Chinese official doing so accompanied by a fake inflammatory image has clearly pushed the Morrison government over the edge.
Australian exporters are on tenterhooks about what other tariffs they can expect from China amid the escalating spat. There's a lot at stake here: crucial diplomatic relations and billions of dollars' worth of trade. Both sides know that but it seems that only Australia, despite its fury, is still willing to extend a hand.
It's worth noting that in his angry comments today, Mr Morrison still left room for diplomatic manoeuvre. "Despite this terribly offensive post today, I would ask again and call on China to re-engage in that dialogue," he said, adding that he hoped this "awful" event would lead to a type of "reset".
But China is unrepentant. Foreign ministry spokeswoman Hua Chunying said: "It's not China which should be ashamed, but Australia."
Why are China-Australia relations so bad?
Bilateral relations between the two countries have rapidly deteriorated this year after Australia led calls for an investigation into the origins of the coronavirus pandemic, and ongoing discussion about Beijing's alleged interference in Australian affairs.
In recent months, China has imposed a series of economic blows - including trade stoppages and tariffs - on about a dozen Australian imports including wine, barley and beef.
Australia has described China's actions as "economic coercion".
Earlier this month, China's embassy in Australia circulated a list to local media outlining 14 policy areas where it said Australia had acted in a way that aggravated relations.
These included Australia's decision to block Chinese investment projects, ban Chinese tech firm Huawei from its 5G tender, and "incessant wanton interference in China's Xinjiang, Hong Kong and Taiwan affairs".
Australia has said it will not change its policy positions.
On Monday, Mr Morrison confirmed that Australia's requests for meetings with senior Chinese ministers continued to be rebuffed.