How rape allegations have rocked Australian politics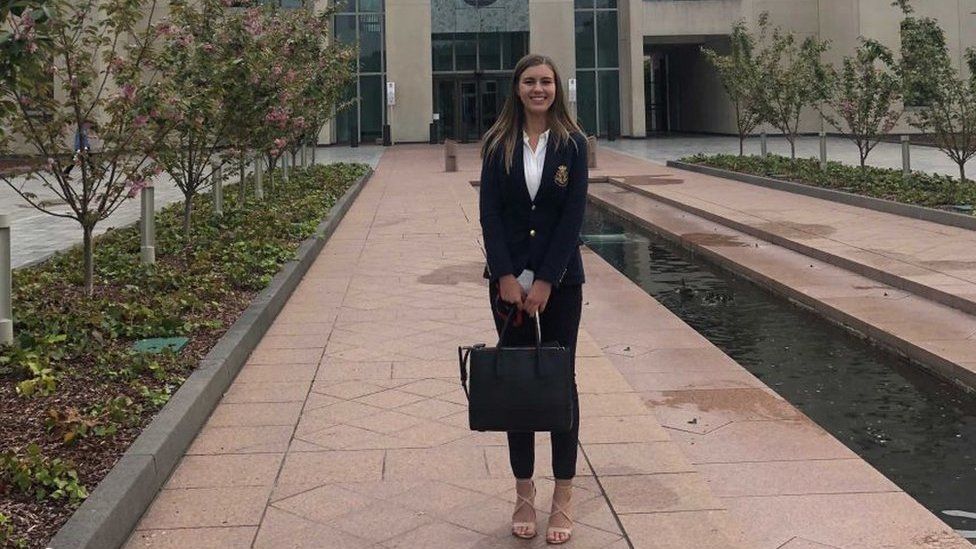 Just a fortnight ago, Australia was shocked by a former political adviser's allegations that she had been raped in the nation's Parliament House.
Brittany Higgins said she'd been attacked by a male colleague - also an adviser for the ruling Liberal Party - in a government minister's office in 2019.
Her story has triggered a flood of other women to come forward with their own experiences of alleged sexual assault and harassment in Australian politics.
The most explosive of these - a 1988 rape allegation - now hangs over an unidentified cabinet minister. The minister denies rape, Prime Minister Scott Morrison said on Monday.
Mr Morrison has referred the case to authorities, but New South Wales state police closed their investigation on Tuesday, citing insufficient evidence.
A rape accusation against an opposition MP has also been referred to authorities.
As the allegations pile up, Mr Morrison's government in particular is facing a public clamour for answers. Here's how events have unfolded so far.
Brittany Higgins speaks out
Ms Higgins said she was 24 and weeks into a new "dream job" when she was taken to parliament by a senior colleague after a night out in March 2019.
Heavily drunk, she had fallen asleep in the minister's office before waking, she said, to find the man sexually assaulting her.
The man was sacked in the days following, not for the alleged assault but for breaching office security with the late-night visit.
Meanwhile Ms Higgins told her boss - then Defence Industry Minister Linda Reynolds - that she had been sexually assaulted. The meeting occurred in the same room where Ms Higgins alleged the attack took place.
Ms Reynolds has said she offered support to her aide to go to the police. Ms Higgins said she felt pressure that doing so would lead to her losing her job.
Ms Higgins said she had since felt "silenced" by the Liberal Party, but decided to speak out after seeing a photo of Mr Morrison in January. It showed him celebrating the activism of a sexual assault survivor.
"He's standing next to a woman who has campaigned [for survivors' rights]... and yet in my mind his government was complicit in silencing me. It was a betrayal. It was a lie," she told news.com.au.
PM criticised for response
A day after Ms Higgins came forward, Mr Morrison apologised for the way her complaint had been treated by the government two years ago. He also promised inquiries into parliament's work culture and support for political staff.
However, he sparked a public backlash when he appeared to suggest that he'd understood Ms Higgins' experience better after his wife urged him to think of his two daughters.
"She said to me: 'You have to think about this as a father. What would you want to happen if it were our girls?'" he told reporters.
Women in particular condemned Mr Morrison's framing of the issue. Did he need to think of Ms Higgins as someone's daughter, they asked, before he could empathise or take her account seriously?
Mr Morrison and his ministers were also accused of skirting questions about who within the government knew what and when, and why they didn't do more.
It has since emerged that several people in Parliament House - including at least three cabinet ministers - knew about the alleged crime.
The prime minister maintains he learnt of the allegation at the same time as the rest of the nation.
But when he disputed a suggestion by Ms Higgins that one of his advisers had been "checking up" on her - doubting her recollection in that instance - she was quick in her reply.
Since Ms Higgins' spoke out, four other women have come forward to local media to accuse the same man of sexual assault or harassment.
One woman said she'd been raped by the man in 2020 after drinks and dinner with him. "If this had been properly dealt with by the government in 2019 this would not have happened to me," she told The Australian.
Another woman, an election volunteer, said she was also raped by the man after a night out in 2016.
A third woman said the man had stroked her thigh during a group dinner with colleagues in 2017. She made a report to police after seeing Ms Higgins speak out, the ABC reported.
Last Wednesday, a fourth woman told news.com.au she had felt pressured by the man to have sex in 2014.
Then late last week, amid suggestions that some lawmakers had been reticent to report Ms Higgins' allegations earlier, the Australian Federal Police (AFP) issued a statement to lawmakers. It reminded them to report any criminal allegations they had come across.
Cabinet minister accused of rape
On Friday, two opposition senators - Labor's Penny Wong and Greens' Sarah Hanson-Young - referred a letter they had received to the AFP.
It alleged that a man who was now a cabinet minister had raped a 16-year-old girl in 1988.
The identity of the minister and the alleged victim have not been reported by Australian media. The woman took her own life last June, aged 49.
Earlier last year, the woman went to New South Wales Police, but an investigation was suspended after she died.
Last week, friends of the woman wrote a letter to the prime minister and other lawmakers, urging him to establish an independent investigation.
This was needed, the letter argued, because police would most likely not be able to launch an investigation. Criminal cases typically require testimony from a complainant and the woman had died.
"Failure to take parliamentary action because the New South Wales Police cannot take criminal action would feel like a wilful blindness," the letter said.
But Mr Morrison on Monday declined to do so, insisting it was a case for police.
"The individual involved here has vigorously rejected these allegations," he told reporters on Monday.
"And so, it's a matter for the police," he said, adding that "there was nothing immediate considered that was necessary for me to take any action on".
On Tuesday, police confirmed there was "insufficient admissible evidence to proceed" with a case.
"As such, NSW Police Force has determined the matter is now closed," it said.
Others say the matter is not over, even if it is not taken up by police.
Mr Morrison's predecessor, Malcolm Turnbull, has called on the minister to identify himself and address the allegations.
He said the minister's identity was so widely known in Canberra it was untenable for him to remain silent.
On Sunday, a government lawmaker referred a separate rape allegation against a Labor MP to police. No further information about that allegation is yet known.
The allegations of the past fortnight have reignited wider questions about Australian political culture, including long-held debates about sexism and misogyny.
One of the women who alleges she was raped by the political adviser said she had come forward, in part, to "help shine a light on this awful culture".
Last week, Mr Morrison said: "I think we've got a problem in the parliament and the workplace culture that we have to work on."
But calls for more action from the government continue to grow.
Critics argue, for instance, that a cabinet minister accused of a serious crime should be stood aside pending an investigation - a suggestion the government has rejected.
Meanwhile, Ms Higgins has now filed a police complaint. She is "determined to drive significant reform" in how parliament handles cases such as hers.
"I believe that getting to the bottom of what happened to me and how the system failed me is critical to creating a new framework," she said.
You might also be interested in: