In pictures: Thousands attend LGBT Mardi Gras in Sydney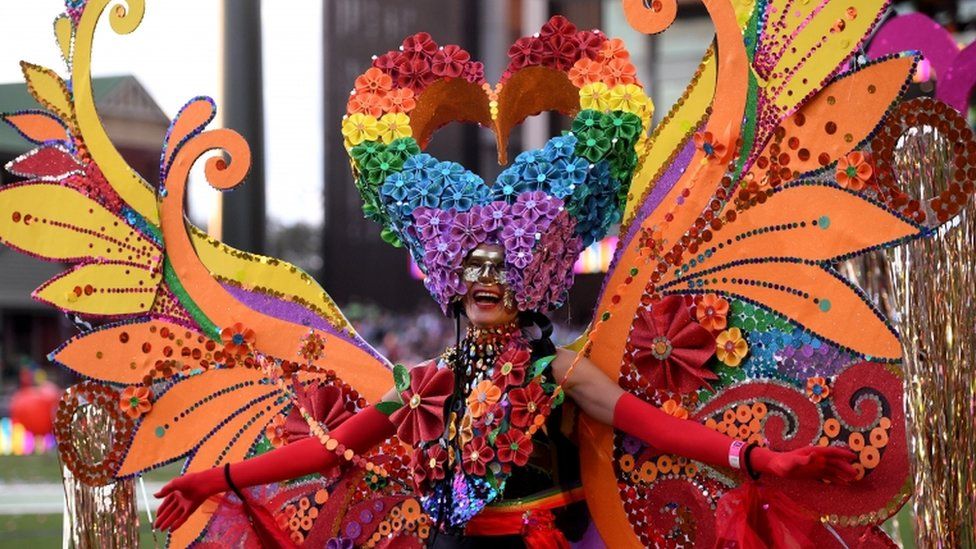 Thousands gathered inside Sydney cricket ground on Saturday for the city's annual Gay and Lesbian Mardi Gras celebration.
Revellers usually line the city's streets for a huge parade but plans were altered this year over Covid-19 concerns.
Some 36,000 attended the stadium event instead - though a small protest march also took place on the usual parade route after an exemption was issued by health officials.
Saturday's main event was the 43rd Mardi Gras parade held in the city - described online as "a stunning and sparkling showcase of LGBTQI+ culture and community".
The parade was televised and featured colourful costumes and a headline performance from singer Rita Ora.
Some 5,000 took part in the parade, which for 2021 was themed "Rise" which organisers said was chosen "after the challenge and hardship" of the last year.
Many of the marchers also had political messages - including calls for transgender and sex worker rights.
While gatherings of thousands are unthinkable in much of the world right now, the state of New South Wales has gone 48 days without local coronavirus transmission.
Australia has only recorded about 29,000 cases and 900 deaths in total throughout the pandemic.
Other ticketed Mardi Gras events and house parties being held locally had limits of 50 people in place, with police keeping a highly visible presence around the city to make sure protocol was respected.
"We knew Mardi Gras was going to look very different in 2021, so I'd like to thank the community for coming together today and celebrating peacefully and safely," New South Wales Police Assistant Commissioner Talbot said in a statement.
"We are in a unique position in Australia to be able to host events of this scale during a global health pandemic, and I commend the Sydney Gay and Lesbian Mardi Gras team for planning such a well-organised, Covid-safe event."