Howard Springs: Australia police arrest quarantine escapees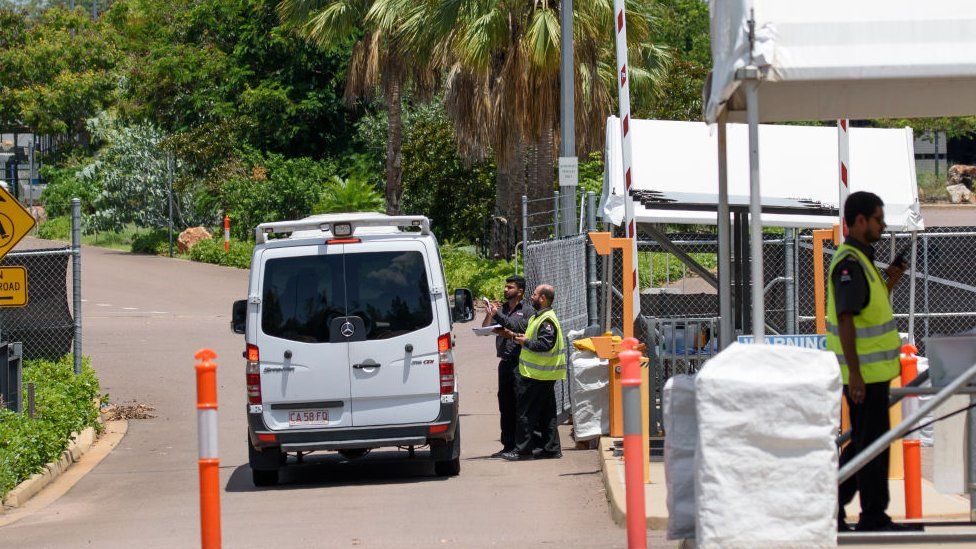 Australian police have arrested three people who broke out of a Covid quarantine compound in the middle of the night.
The Howard Springs centre near Darwin in the Northern Territory is one of Australia's main quarantine facilities for people returning to the country.
Police said the trio scaled a fence to break out of the facility.
Officers found them after a manhunt on Wednesday. All had tested negative to Covid the day before.
Officials did not state whether the escapees were returning travellers or locals in quarantine.
In recent days, the centre has also housed people infected from a Covid outbreak in Katherine, a town 300km (185 miles) away.
Police had set up checkpoints around the compound on Wednesday and inspected cars moving through the area.
Last Friday, a 27-year-old man jumped the centre's fences and fled in a waiting car to Darwin's town centre. He was later arrested and tested negative for Covid-19.
Up to 2,000 people can be held at the Howard Springs site. It is an old mining camp that was turned into a quarantine centre by the Australian government last August.
One case of the Omicron variant has been confirmed there - a traveller from South Africa who arrived on 25 November. Omicron cases have also been detected in Sydney.
Australia has delayed reopening its international borders until mid-December, amid concerns about the variant. Early evidence suggests it has a heightened re-infection risk.
The country has also imposed new restrictions blocking travel from nine southern African countries.
Australians have spent 20 months under some of the world's strictest border rules, in an effort to keep out Covid-19.
Some restrictions were eased last month. It is yet unclear whether the new variant will force them to be reimposed.